Still talking about how I pick illustrations for this blog.
4 Illustrate the damn story
Sometimes the story makes it clear, at least to me, what the picture should show. Let's say the story has got to the point where the heroine is kneeling, at the top of a staircase, giving head to the anti-hero (that's me). She has her hands tied behind her back. Also, she's dyed some but not all of her hair blue, and she has a huge tattoo on her lower belly. She has fresh cane stripes across her arse. 
If you're a regular reader, you'll have recognised Raylene from that description. And perhaps you wondered if you missed an episode, because that hasn't happened in the story so far. It's something that happened a couple of months after the day I've been talking about. I'll probably tell how that came to be, and what it meant, later.
But my chances of finding a picture that comes even close to illustrating that are pretty small. The blue hair and tattoo will have to go, for starters: too much to hope for. I'll probably have to forget about finding a photo with stairs in it.
I'm going searching now. 
This one loses the blue hair and the tattoo, and it's nowhere near any stairs, though at least it has a bedroom setting. It's obviously a hotel room, which is wrong for the feel entirely.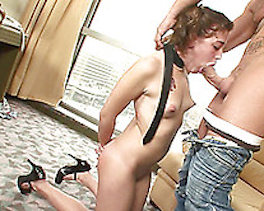 But at least this girl has her hands tied behind her back, and she's giving head, and she may not have cane marks, but the thing round her neck at least gives it a bdsm ambience. 
But it's completely wrong for Raylene. Even in old jeans and a holey jersey she had far more style than that. And she would never, ever, not in this millennium or the next wear nothing but high heels, or wear high heels for sex.
Maybe no-one else cares, but I imagine Raylene's disgust at the girl's hair and heels, and I realise I'd be insulting her if I used that pic to represent her. 
So I keep on searching. I have to reject several pics because they're all about huge cock pride first, and the woman only second, and that's not what I'm thinking of either.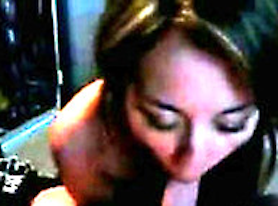 So in the end, out of desperation I pick this one, because at least the woman's hair is dark and straight, which Raylene's was where it wasn't blue. This girl may be Japanese, but she looks more like Raylene than the other girl.
And she's not using her hands, which is important. I tied Raylene's hands exactly because it made her task more difficult and forced her to work harder. 
So the pic illustrates almost nothing I set out to capture. But the search took me hours, and this was still the best I could do. 
I'm out of time. More tomorrow.