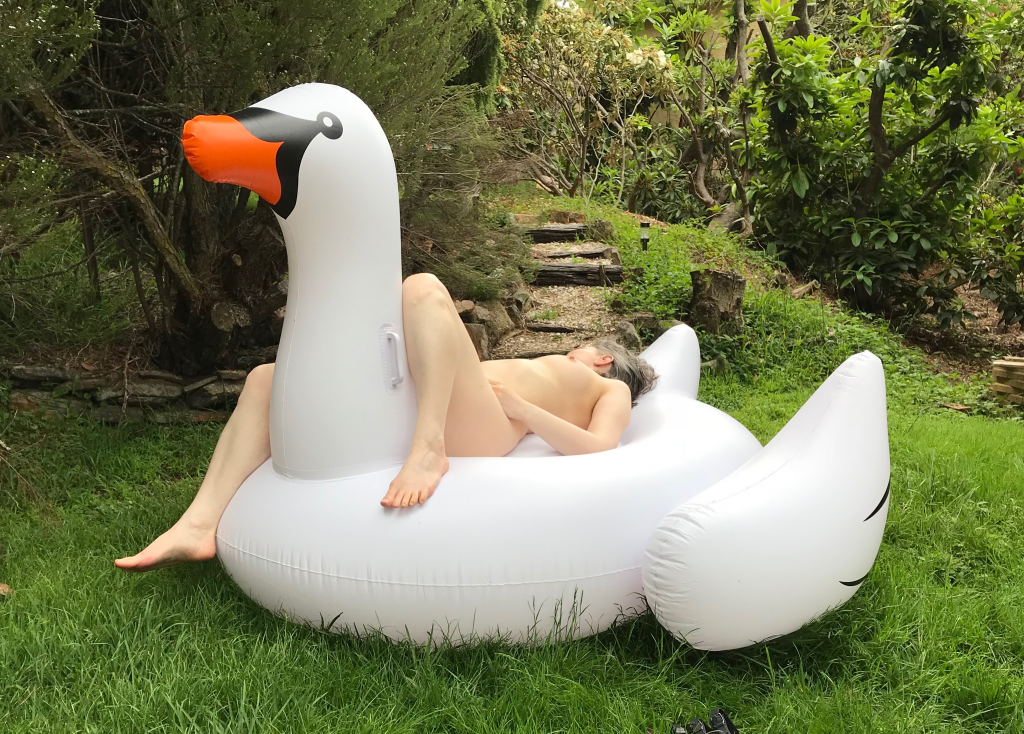 God! That swan wants a cigarette, doesn't he? 
Anyway, we were telling the story of Elsa of Brabant, in February of the year 932. 
Background
I mentioned that the King of Frankreich, Henry the Fowler, was in Brabant to persuade their cavalry to support him in the Battle of Merseburg: Frankreich (defending), versus the Magyars. That's how we know when the story is set. The battle was in March 932, and it'd take an army, even with horses, about three weeks to get from Brabant to Merseburg.   
Elsa was accused of her brother's murder, but was proclaimed innocent after a stranger arrived and won her case, in a trial by combat. He then offered to marry Elsa, and, starstruck, she accepted. 
Now read on.
Elsa's story
The trouble is, this man that she's called here, or created, insists that she not ask his name, or where he comes from. So she's in love, and so is he, but he's carrying on like a married man on Fetlife. 
Eventually, on their wedding night, Elsa can't stand it any more. He tries to stop her, but she directly asks him who he is, and who are his forebears.
He is distraught. Once he is asked that, he's not allowed to stay. He's a bit like a creature from Faerie, immensely strong and powerful, but if you so much as nick their finger – or make any puncture – they collapse.
Elsa hears the call of the Swan that drew his boat. It's coming to take her lover, her husband, away.
At the river, the knightly stranger explains that he is a knight of the Holy Grail, which is in the mountains of northern Spain. His name is Lohengrin, and he is the son of Parzifal, the ruler of the Grail kingdom.
Lohengrin is distraught as well. If she'd managed to hold on for a year, he'd have been able not only to stay but to tell her who he is. And she would have got her brother back.
Maybe I can do one thing, he says. He kneels down by the river and prays. The Swan transforms, losing its swan form, and turning back into her missing brother Gottfried!
He had been turned into a swan by the wife of Telramund, the knight who'd accused Elsa of murdering her brother. He was rescued by the Grail: if he spend a year serving the Grail, he'd have been able to return, in human form. But Lohengrin has used the last of his earthly powers to bring Gottfried back early. 
He, Lohengrin, was going to lead the cavalry into battle, but he can no longer do that. But, he says, Gottfried can.
But even though Elsa got her brother back, the Grail is forcing Lohengrin to return. He can't stay. He steps into his boat, which speeds off, even without a swan to pull it. 
Elsa watches her lover, rescuer and husband disappear, and she cries out in agony. Then she faints, or dies, of her grief
What's this story about?
In an odd way, it's about adultery, or at least it exists because of adultery. Elsa and Gottfried's family are real, and in 100 years or so Gottfried's descendent, another Gottfried, would lead Christian forces in the First Crusade, and took back Jerusalem. 
But about this time there was an embarrassing break in the family line. They explained it by coming up with this story about swans. 
So Lohengrin, a figure out of myth, steps briefly into the real, historical world. And Gottfried, a figure out of history, steps briefly into the world of myth. 
Each, as they must, ultimately returns to the world, or realm of reality, that they came from. 
It's also, in a way, about the weakness of the supernatural. It can seem strong and powerful, but it always shrivels and disappears if you look at it too closely. 
Fucking swans
That's the end of the swan series. There's much more to say (sexual customs involving humans fucking swans up the cloaca, for example) and many more stories, but all good series have to come to a