My father is very, very old. He is alive way past the usual human lifespan, so that even the youngest and the healthiest of his friends are dead.
He's had a good life, working his way from poverty to mild wealth. He married happily, well and once. His wife, my mother, died in their home last year. His children are all well and we're mostly happy, so he doesn't have to worry about us. He can fill a hall with his children, grandchildren, great-grandchildren and great-great grandchildren. I know because on his 90th birthday we did.
He remembers not just the Second World War but the Great Depression of the 1930s. When he was a boy he rode to school on horseback. The school had a paddock for its pupils' horses to graze in during the day.
Women usually outlive their husbands, but although my mother lived a long time, she died first, leaving him alone.
Old age, very old age, takes a lot away. It's inflicted a lot of indignities on my father, who is made to shower, and helped to shower, by nurses who cajole him  into cooperating with medical things as if he were a slightly naughty boy of,oh, seven.
They know he was a man of power and intelligence. But you can't make a man do what they have to make my father do, so they treat him as a boy. It's their way of dealing with the unfairness of human age and frailty.
My father handles this with great patience and good humour. Though there's not much funny about most of it.
But I  learned some things about both of us in the days I've been looking after him. Though I'm a Dom I have a slightly Bertie Wooster-ish notion that you have to oblige a woman. It is my duty to look after women , and as far as possible I must go along with their wishes and even their whims. Being a dominant doesn't make this any less true, at least for me. I keep a submissive obedient and disciplined, but I try to make sure that she achieves her dreams, including frivolous ones.
It's interesting, I think, that my oldest brother used to spank his girlfriends, making sure that they loved it. My next oldest brother had a stash of bdsm porn books – a girlfriend of mine once babysat for him and his wife, and babysitters always find the porn. I know very little about my sisters' sexual lives, so I'll leave them out of it. But I do know that three out of three of his sons have some bdsm interests, though I'm the one it's by far the strongest in.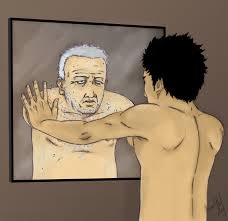 We didn't get our interest in bdsm from my father's example. If he ever played sexual games with my mother, he was successful in making sure that we didn't know anything about it. Nor was he ever violent or bullying, the kind of man who imposes non-consensual bdsm on their partner and family. I suppose we'd provide some support for the idea that there's a hereditary element to interest in bdsm, since it wasn't in our environment. What there was, though, was a kind of chivalry that has a lot to do with the kind of dom that I am, or at least try to be.
I understood this while I was looking after him over the last week. There was a moment, one morning, when my father was drinking a cup of coffee. A nurse came by and picked up his breakfast plates. But he hadn't finished the coffee.
He saw that she was hovering, and his first instinct was that she shouldn't have to wait for him. So he swallowed his coffee in a few gulps and gave her the cup, with a kind of ironical chivalry. She thanked him, took it and left.
Then he had a choking, coughing fit that lasted for nearly three minutes, because he can't eat or drink anything quickly. He waved at me to close the door, so that she wouldn't hear it and feel bad.
It was a very small thing, but it's also true to say that he risked his life just to save a woman's feelings. The choking is alarming and dangerous, and it may be what one day kills him. He strayed onto death's front lawn so a woman wouldn't have to wait, or come back later, for a cup.
By the way, there's no blame or criticism for that nurse, here. She does a hard job well, and she doesn't yet know how my father thinks and acts.
That automatic deference to the comfort and convenience of women is inherent to my father, and I suppose that's why I'm exactly the same, including as a dom. I would do that mildly foolish thing myself, one day, without even thinking about it.