A week later Jayavardhini Mudiliar opened Chetana's door. Inside there was a woman singing. With an orchestra. Her voice seemed to circle like a soaring eagle, higher and higher. The sound was clear, though a little scratchy. 
Oh, she thought. Philip's wind-up gramophone. She didn't know the music, but it was beautiful and very overtly sexual.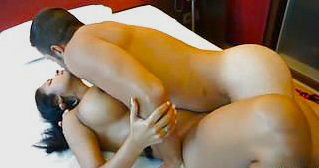 Chetana was on her back on her bed, with Philip above her, pumping her, roughly in time with the pulse of the music. Chetana was making a cooing, pre-orgasmic song of her own. 
Jayavardhini's parents would have said she should withdraw discreetly, but instead she walked in and watched them.
Chetana's body she knew well, dark, dark black and her flesh muscular but lusciously voluptuous, while Philip, held between her thighs, was wiry and mostly white except where his arms and legs were tanned.
Philip had one hand on Chetana's throat, constricting her, his other hand tight on her shoulder, fingers digging into her. As they plunged and rose together his face was fierce, while Chetana's seemed abstracted.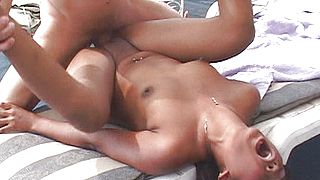 Her body arched beneath him, hips and thighs surging upwards to meet his thrusts, greedy and hard. When Philip released her throat and slapped her face lightly, Chetana closed her eyes, her mouth open, a line of drool spilling from its edge.
She moaned, low like a big cat, a puma being fucked, then abruptly clenched, thighs and arms tight around him, her head thrown back to scream. 
Chetana's orgasm scream was loud and uninhibited. Philip slapped her again and the scream repeated, then again a few frenzied seconds later, quieter now and dropping in pitch.
The woman singing came too, at roughly the same time as Chetana. The orchestra seemed to move in then, to caress her with infinite tenderness and then carry her gently into sleep.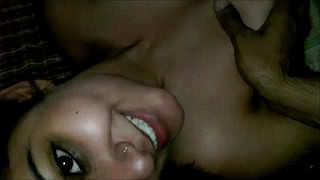 Chetana was done for the moment, though Philip did not stop. Chetana stared up at him, as if he were a frightening but wonderful gift, until he gasped, both hands holding her shoulders down, hands cruelly tight, and when he came he growled at Chetana like an angry bear.
Chetana reached up and touched his face. She said, "Oh, my love."
Jayavardhini was surprised, but she couldn't help but smile. They were in love. She hadn't quite understood that, though the way Chetana had spoken of him when she and her were making love had puzzled her. She hadn't known Chetana be so moved by a man before, or, even as Chetana's female lover she had to admit it, by a woman.
Philip was a surprise. He was so polite and diffident when he had his clothes on that she had assumed that was the real him. She'd been wrong. In intimacy the man was ferocious. And slightly cruel.
They still hadn't noticed her, but the record had ended. She took the spindle off, and Chetana suddenly looked her way.