The previous episode is here.
Sucking my cock had to be made awkward for Emily, because she liked my cock in her mouth. It was, she said, both velvety and hard, and it tasted like I smell, which was apparently good. She could also feel my pleasure, and she took pleasure from that.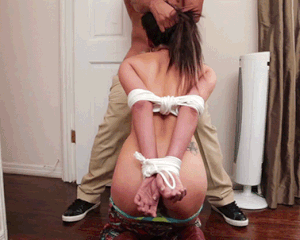 She should have enjoyed doing something that she liked, but she liked her pleasures complex. Her sensual enjoyment of having my cock in her mouth diluted the more intense pleasure she wanted, of feeling that she'd surrendered and lost herself in serving.
She wanted to suffer for her service. 
That's why I reached under her shoulders and cupped her breasts, taking a hard nipple between the thumb and forefinger of each hand. I squeezed until her face showed that it hurt, then relaxed for a few seconds and squeezed harder.
Emily lost her rhythm, then found it again and worked on, eyes closed, oblivious – I had to imagine – to everything but her pain and her service to her man's cock in her mouth. She'd told me she thought she could come just from this, though we never managed to keep it going long enough to find out.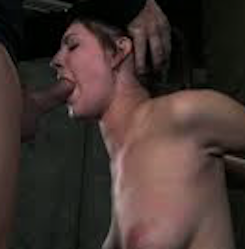 I knew to watch the skin of Emily's shoulders at this point. I released her breasts and unbuckled my belt, pulling it in one motion from the loops of my pants. There they were, in response to that sound: Emily's goosebumps on her shoulders and the upper slopes of her breasts.
I folded the belt, holding the buckle, and swatted the loop down her back, so that the leather would swing down and under her, the end striking the undercurve of her bottom.
I kept the slaps coming, though not hard. The goal wasn't to hurt her but to allow her to tell herself that she was being whipped, quite unfairly, while she served like a good girl. Emily made small, indecipherable sounds, her head bobbing intently.
But soon I had to pull back from her mouth, and lift her head. We looked at each other, my thumb a poor substitute in her mouth, my fingers caressing her cheek. I said, "Emily". She closed her eyes, still focussed inwards, and did not reply. I knelt beside her then, kissing her shoulders and undoing the ties with fumbling urgency.
When I'd freed her Emily stretched and rubbed her wrists, then helped me to undress, also urgently. I lay on my back on the carpet, for her to straddle me.