My love Gretel has been in the wrong part of the world for too long. But soon she'll be back where she belongs. I'm starting to anticipate her arrival. I'm starting to make plans. One of the first things that will happen to her is that I'm going to put her pver my knee, and give her a long and memorable spanking. Skin to bare skin. 
Why is that such a priority, in my imagination, and – I'm certain – in actuality?  What is this? Why do I like this so much?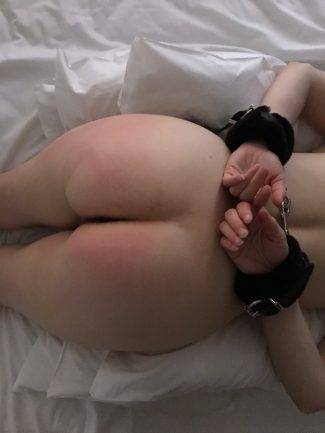 There are visual pleasures to be had from spanking Gretel. The sight of her flesh rippling and firming under my hand as each smack lands. Her face frowning in concentration, a slight pursing of her mouth with each blow. I've watched these things with absorption, and been amazed by their, and her, beauty.
When I make the smacks harder I can watch the changes in her skin, the instant of pallor directly under my hand at the instant of contact, and study it as it blushes to pink as the blood rushes to the assaulted skin.
At first I can see individual prints, my palm, fingers and thumb marked on her like the painted hand on Paleolithic cave walls. But those marks soon merge into one large red blotch covering her buttocks and upper thighs.
As I continue, slowly building up the force of the smacks, she gives me movements to watch, the rocking of her hips and buttocks as she presses down against me and then offers herself up in answering rhythm to my hand. She tucks her hair behind her ears, but when she's in spanked-girl motion on my knee it falls forward over her face.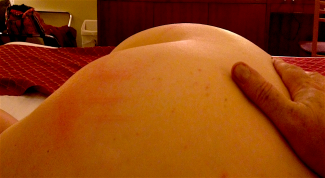 There are tactile pleasures, the curved planes of her buttocks and thighs under my hand, soft when I touch her gently, firmly rebounding when I touch more fiercely. It feels so sensual. I love the impact of my palm against her muscles, and the reactions of her body in that second of impact.
Those sensations are all the more intense for only lasting for an instant. Gretel's body pressed against mine, her hips slowly pumping, moving under my hand: I'm achingly aware of every silken micro-movement of her belly or her thighs.
There are sounds, too: the clap of skin against skin and her occasional answering grunts. And there are our own heady smells.
There's another thing, though. There's a strange, almost telepathic intimacy between us when I heat and mark her. I know that the sting in my hand is only a distant echo of the much fiercer pain in her bottom and thighs. I wouldn't like that sensation myself, but I seem to have some sense of the way in which Gretel experiences it as pleasure. That means I can feel that pleasure along with her. I also know, just as surely as I know that I felt her pleasure, that she can feel some of my my pleasure in watching her, holding her, and spanking her incredible, beautiful ass and thighs.
So, girl. Come here. Assume the position.