Asuka at five. She knocked on the door and waited outside though she knew he left the door unlocked. He opened and found her downcast, head hung, mouth woeful. So although he'd meant to greet her harshly, he put his arms round her, and when she looked up he kissed her mouth, and said, "Welcome, little blossom." But she was only briefly consoled. Once she was inside the door she sank to her knees, and gave in to sobs.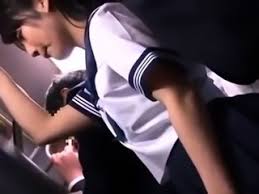 So Seamus, feeling he was acting like the worst villain imaginable, took her ear between his thumb and forefinger, and pulled her up. He smacked her bottom twice with his hand, through her light blue sailor suit. Then, still tugging her ear so that she had to keep her head down while she stumbled, he led her into the sitting room.
He said, "Asuka, I am not going to put up with any more of your stupid behavior." He sounded false to his own ears, so he picked up the cane so she could see it and get an idea of what he had in mind. Her expression was unreadable. "Your behavior last night was stupid, and ugly. Last night was the omoni ni kuzuke. The last straw! I'm going to punish you."
He stopped. This was where she could protest, and they both knew he'd drop the issue if she did. Or she could accept. She snuffled, still keeping her head down, and said, "Yes, sensei. Of course. I was very wrong, and I know I should be punished. I'm so sorry, Seamus."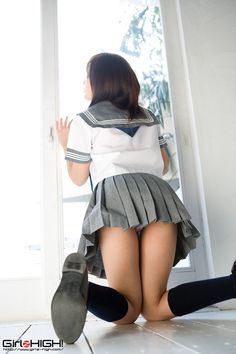 Her acquiescence seemed to come very quickly and easily. The thought crossed his mind: Did she engineer this? Am I being manipulated? He decided it didn't really matter. "Then, bend over, Asuka. All the way down. Touch your toes with your fingers. No," he said when she achieved that too easily. "Put your hands flat on the floor." She obeyed again, and the uniform rose another inch, leaving a little more of her white-pantied bottom in the air.
"Hai, sensei." Asuka was looking up at him, so her face upside down between her knees, her palms comfortably on the floor. She was, he knew well, a supple girl.
About half her panties and the plump intimacies of her lower bottom and upper thighs were exposed. Seamus wanted to kneel and kiss that feminine confluence, but this was something important, and a kiss would only be a distraction from it. They were both giving each other something that mattered to both of them. It had its own momentum and, he had to admit, its own pleasures.
"Take those panties down, Asuka. I'm going to cane you, not some cotton. Right down. Quickly, girl."