Raylene and I both wanted to get to her bed, or maybe just her bedroom carpet, and fuck like snakes. But Raylene had an idea that she'd like to be brutalised before being fucked, and I'd certainly like to be that brute. So though her bedroom door was in sight, we'd be staying on the stairs, for a while.
I took the bundle of Raylene's clothes, and boosted it like a basketball in the direction of her bedroom door. The bundle hit the door a little below the handle, pushing it slightly open, and dropped to the floor, just inside.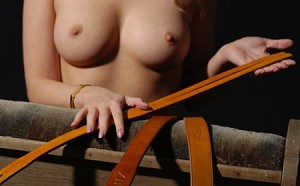 Raylene was worried about her moment of resistance just before I'd taken her bundle of clothes away. She was new to this sort of thing, but she knew that she'd just been defiant, and that was probably going to have consequences. Her voice was small. "Sir? Am I in -? Are you going to -? Um?" 
Actually I hadn't minded her defiance. Defiance can give a dom a reason to step up the pressure on the submissive, and increase the sexual tension. While serious defiance is valuable feedback: it means that there's something wrong that needs attention.
In this specific case I thought it was perfectly understandable. Raylene's bundle of clothes had become a sort of security blanket for her. While so many strange things were happening, of course she'd resist having it taken away.
But she'd have been disappointed if I'd been reasonable. There was a script, and I was prepared to stick with it. I said, "Yes, you're in a little bit of trouble. Not too much. But you don't resist me. Ever. You don't defy me. You need to learn that. So, yes, of course I'm going to punish you."
Raylene nodded: in this new world, these things would have to be. Then she straightened up, put her hands on her buttocks, above that fresh stripe, and stretched. The effect on her breasts was spectacular.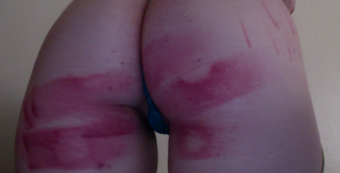 It seemed that Raylene was reached, a few seconds later, by another wave of heat from that searing razor strop stroke across her arse. She closed her eyes and opened her mouth, savouring the pain. Then she sighed. "Oh fuck, Jaime, that really huuurts."
 She said this languorously, not displeased with the sensation. And a second later, remembering, "Sir."