[Note: this story begins at Golden girl #1, below. Start there.]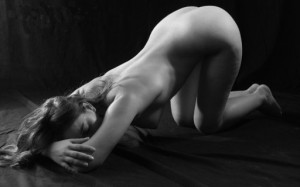 So Emma pointed her eyes, nipples and parted knees at me and thanked me, and asked me if I wanted her to serve me. Then she lowered her head, nose a few inches from the carpet. It was well judged, and the offer was formidable.
I had a lot of stupid ideas, very quickly. I could show her, using the hairbrush Therese had mentioned or even just my hand, that her mistress's whip was only a toy; and I could have her tears on my groin while she knelt and sucked me. She could be on all fours, still keening, and learn that a live cock. blood-warm and hard, was more intimate than the plastic one that Therese no doubt used on her. Or I could surprise her with gentleness, growling at her to keep her hands behind her neck while I tongued and love-fucked her. 
I knew only two things about Emma's own sexual tastes: that she was submissive, and that her chosen lover was a woman. And I knew that no matter how hard I tried to move her, by being exceptionally ruthless or unexpectedly loving, I would only be an incident in the relationship between Emma and Therese. Even if she hated having sex with me, part of her would enjoy that because it would be a submission to her owner, something endured to prove her surrender and devotion to her mistress. 
I'd like to think that was what decided me, or the consideration that Debs would be hurt if I left her side to fuck another woman. I was certain she would be hurt by that, though she had no real right to be. 
But in the end it was mainly pride. Sexual access to Emma was in Therese's gift, and I didn't want a gift that big. It would come at a cost, and while I'd liked Therese well enough, I didn't trust her. I didn't want to owe her.
I thanked Emma, and told her how sexy she was, and that she was beautiful, fuckable, obedient and – smoothie that I am – a credit to her mistress. And that I was sure that right now she needed to serve that very generous mistress.
There it was. Emma really was beautiful, fuckable and obedient, and I really did want to fuck her. But though I'm never sure when I'm doing the right thing, this is one of the very few times in my life when I have turned down sex and never regretted it since. 
The dinner party broke up soon after that. I left with Debs, an exclusively heterosexual, submissive woman who'd just been tempted by another submissive woman, and I drove her home. 
To be concluded.