Traditionally, your pornographic tawsing goes something like this: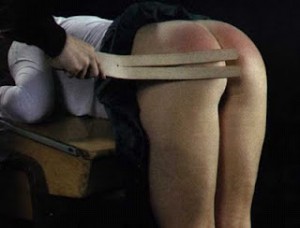 "After supper came those terrible two dozen with the tawse. the tawse is a Scottish instrument of punishment, made of a hard and seasoned piece of leather about two feet long, narrow in the handle and at the other end about four inches broad, cut into narrow strips from about six to nine inches in length.
Alice had never seen, much less felt one.
She was commanded to bring it to her uncle, and had to go for it naked – not even a fan was allowed! How could she conceal the least of her emotions? Oh, this nakedness was an awful, awful thing!
She brought it, and opened her book and knelt down and said:
"Please give me two dozen with the tawse for being ashamed and trying to cover my nakedness, and for my disobedience."
"Across my knee."
"Across – your – knee."
"Very well! Get up. Stand sideways close up to me. Now," taking the tawse in his right hand and putting his left arm round her waist, "lean right down, your head on the carpet, miss," and holding her legs with his left leg, he slowly and deliberately laid on her sore bottom two dozen well-applied stripes. Then he let her go and she rolled sprawling on the carpet with pain and exhaustion."
The first time I used a tawse, on a 21st century girl, it was quite a bit less efficient than that. Story for next time, I guess.