Last Sinful Sunday I talked about whether there's any meaningful difference between "pornography" and "erotica". I mentioned objectivation, and that objectification isn't necessarily a distinguishing feature of erotica or pornography. The real difference is that one word is often used in disapproval and the other word is usually used with approval.
This time we're looking at the idea that erotica is subtle, indirect and suggestive, and pornography is blatantly depictive. Take this example.
The two images are suggestive. They construct a sexual context, even a narrative.
In the first image the woman is relaxed, dreamy, getting pleasured. Her lover might be doing things to her with his tongue, or toys.
In the second image, time has passed and she's no longer relaxed. She's flooded (with sensation; I'm not making a come joke). Perhaps her arse has lifted off the bed and her stomach muscles have tightened.
There's no particular reason why you should accept the idea that "erotic" means "understated, subtle and indirect". It's not supported by etymology or by the dictionary definitions. It's only an arbitrary decision you might make about how you might choose to use the words. Still, if that's the choice you make, then these images are erotica.
Now, let's have another "erotic" image.
It's possible to read the angle of the bound, hand-cuffed woman's body, to see she's assuming a classic submissive position. That shadow between her fingers, the hint of the top of her buttocks, promises but denies other sexual vistas of her body. But the suggestions tell you that the woman is submissive, bound and helpless.
Here's a more blatant image taken a short time later. It's a depiction of the same bound woman. And her paddled bottom.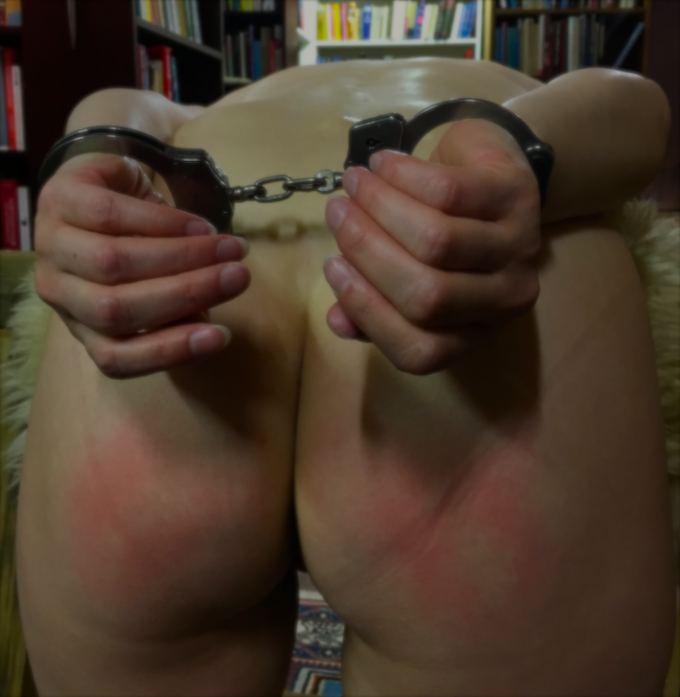 I'm afraid that I prefer the blatant image above to the "erotic" version. It makes me feel (since this post is brought you by the letter B) like being the bold bad Baron of Bulgaria, about to bang his bouncing bollocks on his bound lady's beautifully blushing buttocks.
So the "blatancy" versus "suggestion" distinction can be used, if you choose, to distinguish erotica from porn. There's no reason to accept that this is a valid distinction between pornography and erotica, but if you do chose to make that distinction, then I prefer porn.