I'm still busy. I was going to say something about the changes that the paddle enforces on the submissive receiving it: her body moves, involuntarily, and she has very little choice over the emotions she feels. In my experience and observation, even if she starts with the feeling that the punishment is unjust, she'll have accepted it, and be sorry for having earned it (as opposed to just sorry that her bottom hurts) by the end. But I've only got a few computer minutes today.
So instead we're going with the fact that "Motion and Emotion" sounds like a Jane Austen title. And that made me curious about whether Jane Austen fans have been writing bdsm versions of their favourite books. It turns out that there's an internet-load of spanking slash porn involving Austen characters. Here's a sample.
Emma: Jane Austen, amended Lisabet Sarai: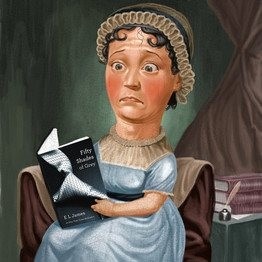 "Mr. Knightley! Sir! Whatever are you doing?" Her efforts to resist were feeble, for the sake of form only. In fact, she craved nothing more than to feel the heat and hardness of his man's body against hers. For once, Emma could not deceive herself. Despite her shame, her conscience could not conquer her far more urgent desire. His lips were mere inches from hers while his bold hands clasped her thighs with breathtaking force.
If he should kiss me, Emma thought, I shall indeed faint away, but if he does not, I doubt I can bear the disappointment.
The moment of silence drew out, until Emma was convinced her companion was deliberately prolonging her agony. At last he released a laugh, so bold and harsh that it made Emma wonder if he'd gone mad.
"I've changed my opinion, Miss Woodhouse, about your disastrous matchmaking. I've come to the conclusion that you are far more likely to mend your ways if you receive a bit of chastisement."
You can find the rest here:
http://ohgetagrip.blogspot.com.au/2012/08/miss-woodhouse-receives-spanking.html?zx=cbe3c8205d9360ae
By the way, I don't mind Austen characters spanking each other. But I do slightly object to Mr Knightly saying "a bit of chastisement". I don't think people said "a bit of" anything, in the Regency period. He might have said a "modicum."
Personally, I'd change it to something like "salutary", or "condign", but it 's not mine. Anyway, there it is: Jane Austen spanking porn.