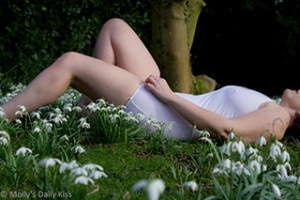 Photo courtesy of Molly's Daily Kiss
The only place where the smartest and hottest sex bloggers are featured under one roof every month. Whether you're looking for sex journalism, erotic writing, relationship advice or kinky discussions it'll be here at Elust. Want to be included in Elust #69? Start with the rules, come back April 1st to submit something and subscribe to the RSS feed for updates!
For our UK readers, we would like to make a special request that you take a moment and fill out this petition to repeal the new censorship laws.
~ This Month's Top Three Posts ~
A Misunderstanding With My Clitoris
BDSM Doesn't Magically Fix Your Life
Discussing Consent, Culture, and What We Do
~ Featured Post (Molly's Picks) ~
Other people run. I fuck.
Frame by Frame
~ Readers Choice from Sexbytes ~
Bad Men and Why Perfectly Intelligent, Independent, Sane Women Fantasize About Them
Sex News, Opinion, Interviews, Politics & Humor
Erotica Challenge: The Euph-Off /
Squirting: A Feminist Issue?
The Waaaambulance Race
Thoughts & Advice on Sex & Relationships
Sex and Depression – An Update
The Dating Game
Pussy Whispering
"Fuck You" Is the Best Revenge
Interviews & flirting
Erotic Non-Fiction
Doing As I'm Told
Possibilities to ponder
Sign Language
Today I'm Going to Share a Sad Story
Whispering To Him
Humiliation of an ex-Nazi submissive 37
Thoughts & Advice on Kink & Fetish
One Sadist's Consent
Home Improvements
NSKQ 48: Cumming Kills the Party
The Fun, The Serious & the In Between in BDSM
Starting to feel human and kinky again
Do what you say you will do
Flux
Poetry
Erotic Fiction
happy birthday
The Red Shoes
The Fuck Feast Fantasy
Unexpected
"Not Paid to Love You"
Unexpected
The belt
Writing About Writing
Resist the Erotic Euphemism
Lessons From Writing A Threesome
The Semantics of Sex
Sardax Breathes Life Into Venus in Furs