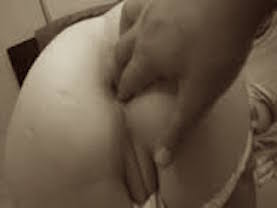 Shar didn't argue. She didn't even look skeptical, so I poured more lube onto my fingers while they were partly withdrawn, and pushed forward again.
She was still tight, but there was enough lube, for now. My fingers slid in her quite easily, and there was no tension in the set of her face or her body.
We continued until Shar began to move, rocking with my fingers, pleasuring herself. We stayed with this, letting Shar move on my fingers, for a long time.
But eventually I took my fingers slowly out of her, and patted her bottom where I'd spanked her. "Are you ready, love?"
"Yes. Let's try."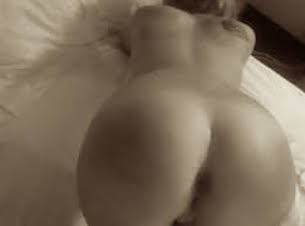 I put my knees between hers, and held her hips tightly, letting her feel strength, and need for her. My cock pressed against her cunt, and I had to fight my urgent need to be all the way in her.
"This works better if you guide my cock into you, Shar. You have to grip hard, and just aim it at your asshole. Do that, for me."
She reached back and touched my cock, tentatively. I said, "Cock wants to go into easy places. Like your cunt, or… anywhere. You need to hold it hard. And if you're in control, you can make sure the angle is as comfortable as we can make it. Yes?"
Shares grip on my cock tightened. I gasped. There was nothing Shar could do, just then, that wouldn't feel good. She lowered her ass just a little, and set the head of my cock against her little ring. She said, "Yes." I pressed forward.
The head of a cock is more of a challenge than two, or even three fingers. But I held her hips tight, as she held my cock, and pushed forward. Her anal ring hesitated, unwilling to open so far, and then opened. It was a sudden give, and Shar cried out. Partly in pain, and partly because of the strangeness of the sensation. She moved forward instinctively, to get rid of me.
"No, girl." I put my hand on the ball of her hip, in warning. "If I slip out, I'll only have to enter again. It's the single most challenging part. You need to keep me in you, just inside you, until it feels better. I won't move till you're ready."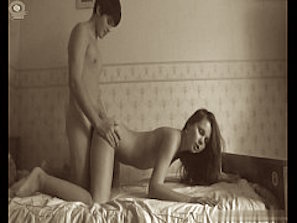 Shar breathed out, penetrated for the first time. She had nothing to say about that. I kept still, praising her, just the glans of my cock lodged, held. Eventually I felt her relax.
I pushed forward another inch, savoring every movement, every sensation. But I made myself stop again. Shar trembled. It didn't seem to be painful, but it was difficult.
Her anal tube held me, gripping, no longer trying to expel me. I sighed with pleasure, hoping she felt even a fraction of what I felt.
"You're brave. And perfect." While I meant it, and she liked praise, praise can't do everything. But eventually she relaxed again, and I pushed further this time, burying my cock in her, my groin pressed again her presented ass. Shar made a nasal sound. That contact, my body touching hers, was good. So I pressed deeper, until we were fully joined. I'm not sure at what point you can say an anal virginity is gone, but this one definitely had flown.
We kept still, pressing as tightly against each other as we could. I recognized a change in Shar's breathing. This was starting to reach her. The pain had abated to the point where she could parse it as pleasure, and the actual sensation of being filled seemed to be… good.
Note
I'm onto the last chapter of Part 4. Part 5 is – I think – only three chapters long, so I'll be finished soon. I'm going to buy champagne for the entire internet! (But you'll have to drop round to get your share.)