Emilia lived at the end of a long climb up narrow streets to a row of old wooden houses. I stopped at her door, far above the city, taking in the view while I got my breath back. I'd decided to make at least some of my intentions obvious, so I'd brought wine and chocolate and flowers. I knocked at the door.
But it was a man who opened the door, who enjoyed my disappointment before introducing himself. Vijay was another doctor, with long glossy black hair, a chiselled face and startlingly white teeth. He was alarmingly handsome and charming. Fortunately, it was soon clear that Vijay preferred his lovers paler and maler than Emilia. Emilia let herself be found in the kitchen. I appreciated the effort, and also her dress, which was simple and satin, black with large red flowers, and low-cut. 
I put my arms around her, holding her ass to keep us… steady. She kissed me. Once again she had my cock hard, seeking her, this time through cotton, denim, satin and silk.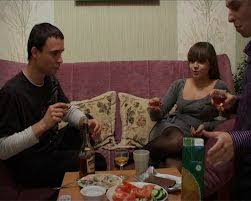 Dinner was enjoyable enough, but the conversation seemed mainly to be between Vijay and me. I'd hoped to talk with Emilia, but there was no opportunity. Still, soon after dinner Vijay left us, heading for the clubs. But at the door he directed a broad wink at me. So I'd been vetted and approved, which was something.
I started my planned conversation with Emilia, but before I'd said much she led me out to the balcony. She excused herself while I gazed down at the night-lit city, and returned with what she said was Vijay's hash pipe. She filled, lit and inhaled, and passed the pipe to me. For years I'd seldom bothered with marijuana. I especially avoided it around women, because a man who isn't handsome or physically impressive has to keep his wits.
My best feature is conversation, and drugs reduce me to tongue-tied idiocy. What I wanted to say to Emilia would be complicated even if my mind were clear. But the pipe was lit and a woman I wanted to please was offering it to me. I took it and inhaled as little as I felt I could get away with.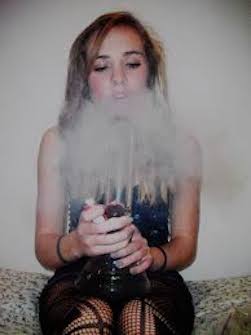 But even a tiny amount of marijuana is enough to send me spinning. In no time the city was a great velvet shawl studded with multi-coloured lights, cellos played at random, heaven's ebon vault was unutterably bright, and Emilia's face, near mine, was enormous, and glowing with some joke that I didn't know, a joke that might worry me if I did know it.
But when she smiled there were dimples, and it was the most beautiful face that could possibly be. Still marijuana-spun, I tried to think of something to say.
After some time I thought of a conversation-starter. "The city", I could say to her, indicating which city I meant with a casual wave over the balcony, "it's nice, isn't it?" I did not say this, but nothing better came to mind. Panicked, I finally said, "you", and kissed her face.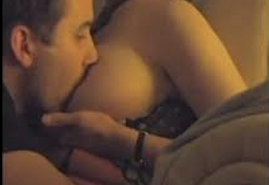 Later Emilia's hands were under my shirt, and I'd pulled down her dress to kiss her breasts, warm and round and, from her time in the kitchen, smelling of flour and chilli. I had my mouth and my mind full of her hard, soft and slippery flesh, until Emilia pinched my nose so I had to lift my mouth and stare up at stars and her eyes.
She touched her forehead to mine and said I'd have to go home now, or take her to bed. That seemed an odd way to put it. I said, "bed better", the first words I'd managed in some time. I thought they were rather good.