Denna made an interrogative noise, but let me lead her to the mat and pillow. I took her shoulders, and pressed downwards, very lightly. She glanced down, then looked back at me. "You really need me to suck your cock, don't you?"
I whispered, "Well, that'll be hot, of course. But I really need you to experience doing as you're told." She frowned and made the interrogative noise again. I put my mouth close to her ear. "You've got a pervert handy. You may as well make use of him. Remember?"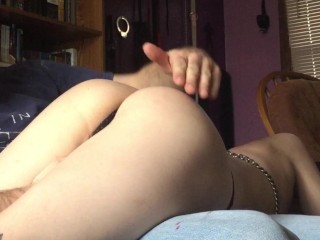 "Well, maybe." She said that into my ear, then bit it. Hard. "But you can't spank me if I don't, can you?"
I managed not to rub my ear, though it hurt. And she was right: a spanking for Denna would bring the whole household running. Quite apart from the bratty fuss she'd make, spanking is loud. 
"Getting your ass spanked is hot, for lots of people. And in your case it's incredibly, absolutely fucking deserved. You'd probably like it. And I'd love it." She put her tongue out and made a disrespectful noise, very quietly.
I held her ear, pinching her very lightly, a warning only, and whispered into it. "But that's not the reason why people sometimes do as they're told. In sex, I mean. It's that doing as you're told can be hot. It's a mind thing. Try it."
"How?"
I put my hands on her shoulders again, and pushed down more firmly. "By doing as you're told. Because I said so. Now get down on your knees and suck my cock. That's not a request, Denna."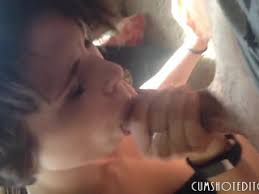 "That's the silliest…" And then she dropped to her knees. She kissed the end of my cock, letting it jolt upwards each time her lips touched the head. Then she licked the underside, and was rewarded by the sight of my fingers, toes and buttocks, all clenching. I gulped in air. She licked the underside some more, while I fought to keep still. At last she opened her mouth and took me in.
I stood silent and still while Denna moved forward on her knees, then leaned forward a little to take my cock deeper into her mouth. At last she began to suck me hard, cheeks concave, lips moving firmly back and forth on the shaft. She raised her right hand to hold the base of my cock.
"No," I said. "No hands." I have a command voice, that I use when I'm domming someone. It's supposed to be warm, and communicate certainty that the person addressed will want to do what the voice says. It doesn't work so well when you have to whisper because her parents weren't far away, but I did my best.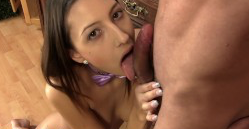 Anyway Denna took her hand away immediately. She'd entered into the spirit of the thing enough to want to keep me pleased with her. But a second later she realized that she always used her hands when sucking cock. Now they hung vaguely by her thighs. She didn't know what else to do with them.
I touched the top of her head. "Put your hands on my feet."
I hadn't thought about it in advance, but on that cold floor having the warmth of her hands on top of my feet was very welcome. I let her work, head rising and falling on my cock. I stroked her head, and sometimes took handfuls of her hair, so she had to pull to keep her head properly on me. I made occasional quiet pleasure noises, partly because I couldn't have stopped myself for all the world and partly because I wanted her to feel she was doing well.
She sucked harder, speeding up, her hands rising to my ankles as she became more focused. I started to move in response, trying to avoid giving her the idea that I was fucking her mouth. She could feel that she was doing as she was told, but she should also feel that she was leading.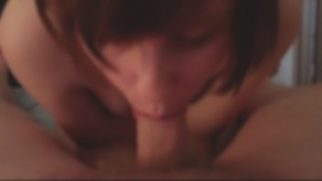 It was only when my whole body was shaking and I could barely stand that I head the back of her head firmly and pushed her forward.
And about a minute later I felt that a gentleman should give fair warning. "Uh, Denna. I'm, ah – "
But that was as far as I got. I froze for a second, as if my body had locked, and spurted into her.
And with that release I could move again and I thrust into her, while Daphne licked and swallowed. It took incredible effort for me to stay silent. It was almost painful.
At last, when I was spent and she still sucked me, cleaning my cock, I could whisper, "good. So good. You are so good." She seemed happy, so I risked saying something that can be dangerous, said to a woman who isn't in exactly the right mood.
"Good girl. You are such a good, wonderful girl."