Denna looked up at me then. It seemed that she didn't mind being a good girl. She drew her lips back along the shaft to concentrate on the glans, still sucking. There was an audible pop when she released me. I reached down to help her up, but she kissed my cock goodbye, and only then took my hand.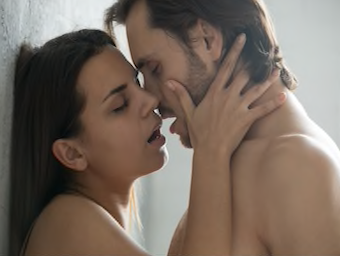 So we stood together, with things to ask and say, about her experience of Doing As She's Told, but we couldn't have that conversation in surreptitious whispers. This wasn't the time and place. So I reached under her gown and squeezed her ass, holding her tight. We pressed foreheads together, so that she had two eyes, then four and finally one.
We grinned at each other like wolves. I whispered, "It's fucking cold," and pushed her gown off her shoulders and she stood naked.
Denna mouthed the word, "Bastard".
I kissed her. I whispered, "When I get you away from the family home, I'll spank you for that. Fact." 
She grinned, knowing that it was only a fact if she agreed. She could make me very disappointed, and we both knew it. So I rolled the blankets aside and pushed her onto the bed, on her back. She pulled the covers over her body, and watched while I crawled like a wolf, the big and bad kind, from the bottom of the bed towards her cunt, still vulpine. I slid my hands under her ass, and lifted her a little. I sniffed her cunt and whispered, "Smells like a girl who does as she's told."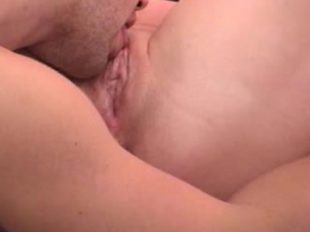 Denna made a noise with her nose, indicating that she wasn't putting up with bullshit like that, and put her hand heavily on the back of my head. I dipped my tongue in smooth girl wetness. She wriggled, making herself comfortable, and spread and lifted her thighs.
Time passed enjoyably for both of us, until her stomach muscles and the muscles in her thighs tightened.
She writhed, hands squeezing the flesh of my shoulders till it almost hurt. Then she released her grip and fell back, gasping silently for breath.
I climbed my way up her body, pausing to kiss her belly, her breasts and her throat. We lay entwined, cuddling, with no particular sexual needs or ambitions, but after perhaps half an hour Denna started stroking my cock. So we fucked. We started lovingly, like the night before, but Denna let her head fall, exposing her throat, and spread her arms out over her head. So I raised my body, arms straight, and gave her my hardest and roughest fuck. We finished gasping each other's breath, and sweaty-haired despite the cold.
She was worried that she'd sleep too well. I set my phone to wake her, on vibration, at 4.30. The alarm must have worked for her, though I slept through it. When I woke up, late for breakfast, she was back in her own bed.