I smacked Raylene's arse affectionately, making her yelp, and her arse bob about like a landed fish. The yelp was pretty, and her ass, firm and brightly burning red, was pretty too. I left my hand on her blazing ass, to enjoy the heat and her movements while she rocked herself on my cock. I squeezed her right buttock, quite hard. She suppressed that yelp, but looked at me to see if I was going to smack her or squeeze her some more. I met her gaze, looking sympathetic. "Hurts, does it?"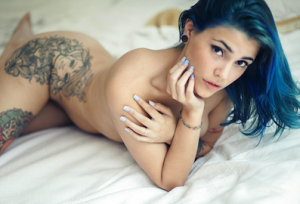 Her expression became woeful and her lower lip pushed out. Sympathy? Well, that was about time. She said, "Of course it hurts. You strapped my arse. And my legs You spanked me. My bum is so sore. How'm I even going to sit down for dinner?"
I smiled at her. "Oh, at dinner you'll do as you're told, whether it hurts or not. Doesn't matter."
"What?" Raylene was indignant. She'd had her thrashing, and now she expected petting and kisses.
But she wasn't going to get them yet. "You do know that I when I strapped you, I was punishing you? And that means I meant it to hurt?"
"What? I thought I get kisses and you rub cold cream into my bottom. I've had my strapping."
I was trying to look stern, but I couldn't help grinning at that. "Dunno what you're been reading. But we're not finished yet, girl." Then I pressed my hand down, hard, on her ass, and thrust my hips up, getting my cock a little deeper. 
"Oh." Raylene seemed happy enough with this. I sped up, and she puffed in time with our movements, her arse bobbing on my lap like a bouy in choppy water. A hot, red bouy. We rocked together.
After a long time I took the razor strop and pressed it between her thighs. It pressed against her lips, in the places where my cock wasn't. She was wet. I guess the razor strop was wet too, now. Raylene made a sound that sounded like a sob, but wasn't. I pushed the strop harder against her cunt, still just a little above where my cock had lodged in her.
I rubbed that hard leather in circles while we fucked. She closed her eyes, holding my leg tighter, and began to fuck me, with fast, shallow movements. She might have remembered the warning I'd given her about letting my cock slip out of her. My orgasm was not far away, and I started to make my own groans and grunts and gasps. We both sped up, scrambling for the end. 
The sob sounded again, then again, and Raylene screamed. I ignored that, still letting my orgasm build, and she screamed again, then again. I kept going, and she continued to scream, but at longer intervals. At last she seemed spent. I said, "Hoooaahhh hah," as one does, or I do, and came in her, in that surge of honey-sweet power.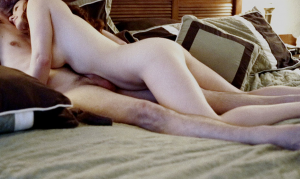 We lay there in the afterwards, hearts pounding against our rib cages, breath gasping and mingling. I could feel my cock starting to come down. Almost as if it was ticking. Raylene looked at me. In a while she laughed. Not because anything was funny. She was just happy. I looked at her, and no matter what I did or tried, my grin widened till I laughed too.