Dorabella dragged her gaze away from her half-sister, climbing the last few steps naked, with her arse and thighs dramatically welted and coloured by the razor strop. She looked at me, her expression somewhere between worry and amusement.
"Well, Jesus, Jaime. I suppose you know what you're doing. And Raylene usually does. Well, often. Sometimes. Ah, forget it."
I said, "Just a moment." Raylene had reached her bedroom door. "Raylene!" 
Raylene stopped. She turned to face us. The neo-Nazi tattoo on her lower belly was on open display. So was all of Raylene. "Yes sir?"
Her face was deepest cerise red. I was glad she was blushing. I'd been worried that she was taking this too easily. 
"How many strokes have you still got coming, girl?"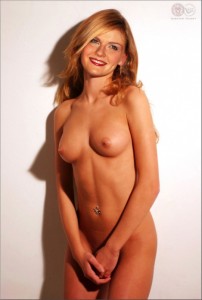 Raylene hesitated. But she had to answer, in front of company. Something made her try to balance out that exposure by putting her hands in front of her cunt. "Eight, Sir." 
It'd been seven, actually. But then, she'd covered her cunt without permission. "That's right." I didn't tell her to go in. So she stayed.
Dorabelle said, "Ahem." I turned back to her. She was blushing too. I shouldn't have involved her or her friend. But they'd stayed, staring, after they'd seen what we were up to. Dorabella looked at me. "Ah…. We were dropping by to have some dinner, and then sleep here tonight. But… I assume you're still going to be making a lot of noise?"
I glanced at the razor strop. "Yep. Reckon." I sounded too happy about that. The darker woman wasn't liking me any more for it.