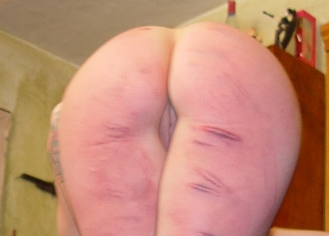 Dorabella stared up at Raylene's prettily pursed cunt and her flame-red buttocks and upper thighs. "Raylene?"
Still nothing. Raylene didn't move or speak. Then I realised. "Raylene, answer your sister."
Raylene coughed. "Uh. Hi, Bellie."
"What the fuck is going on? What are you doing?"
"Bellie, I'm fine. Really. This is fine. I'm doing what I want."
The woman who'd been talking with Dorabella in the kitchen appeared. I didn't know her. She had a dark page-boy cut and olive skin, and she was slender in a shapeless little dress. She was cute, I thought irrelevantly, rather than beautiful like the two half-sisters.
She didn't ask for permission before coming up the stairs, level with Dorabella. She gasped when she saw Raylene, still glowing redly on the stairs. "Holy fuck, girl."
The look she gave me, Raylene's torturer, was not friendly.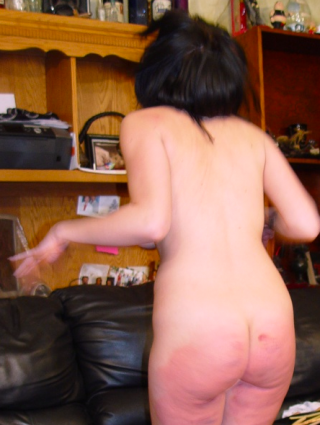 I decided I didn't have any more reputation to lose. Nor did Raylene. "Raylene. Get up now, girl, and go to your room."
Raylene said, "Yes, sir," and put her knees down so she could obey. Kneeling, she lifted her face off the step, and reached back to put her hands on her ass. She breathed out hard, at her own touch.
Then she climbed to her feet, a little shakey. She looked around, and remembered that I'd thrown her clothes into her bedroom. She was going to have to do this naked. 
Dorabella smiled. I suppose sisters like to see sisters suffer embarrassment. But the other woman was still shocked at Raylene calling me sir. Real women didn't say, "Sir."