"Raylene," I said, "just a friendly warning." 
Raylene looked at me. About quarter of an hour ago she'd have said something sarcastic and challenging: "Oh, this is the warning that you're going to whack the shit out of me with a razor strop? No, wait, you already are." Or something on those lines.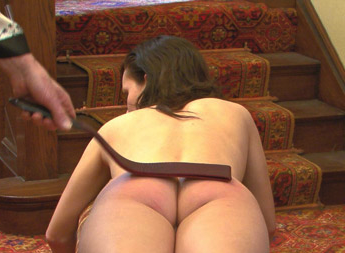 But her mood had changed. Six strokes with a razor strop will do that. She didn't move. And what she said was, "Sir?"
"Good girl. Something you need to know. After the first few strokes, the strop tends not to hurt as much. Because your skin is already warmed up."
"Um? It's going to hurt less? Hmm." She seemed ready to believe that. " Why is that a warning? Sir."
"Because I don't want it to hurt less. So I'm going to have to strap you harder."
"Oh."
It was an excellent lie. Well, two lies, actually.