Raylene stopped at the bottom of the stairs, and glanced back to make sure I was following. Of course I was. I closed the gap between us, to stand behind her and put my hands on her shoulders, reaching down under the bundle of clothes she carried to hold her breasts. She sighed, voluptuously.
I took each nipple between my thumb and forefinger and rolled the hard rubber flesh gently. She sighed a little louder. Raylene was happy.
She turned her face so I could kiss her, which wasn't so easy with the razor strop in her mouth. So I kissed her ear, then her cheek, and pinched her captive nipples, not gently this time. Then, in clear stages, I applied even less gentle pressure, and then cruel pressure. Raylene's eyes opened wide, and she made snorting noises, perhaps of protest, but she kept her mouth firmly closed on the razor strop.
I held her nipples tight, and said, "that's good, you're doing fine." Then I released her. Raylene grunted, not ladylike, as that pressure eased and blood came back. I stroked her nipples then, and the surrounding flesh, lightly to help soothe the pain, and for my pleasure.
Raylene relaxed and pressed back against me. She found the hardness of my cock, trapped tightly in jeans. She pressed back so her bottom pushed hard against that hardness, and I stopped breathing. And stopped moving. Raylene rose on tiptoes and leaned forward and arched her back so her cunt pressed directly against that focal point.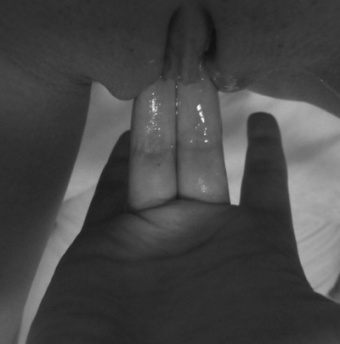 "Ay yah," I said, intelligently. Raylene slowly rutted and rotated against me, moist cunt pressed against clothed constricted cock. Until I reached down to slip the fingers of my right hand into her, so that – though this was still very pleasant – we soon lost our coordination. The corridor smelled of sex. Eventually I smacked the back Raylene's thigh, left-handed.
"Come on, love, we need to be in your bedroom."
Raylene made a nasal agreement noise, which seemed heartfelt. I made her climb ahead of me again, for aesthetic reasons. But when she reached the landing, at the halfway point, I told her to wait.