I was never a fan of Halloween. Until this year.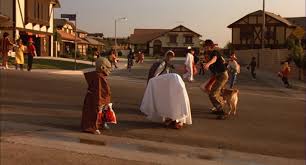 The first thing is that Halloween, in its current form, is pretty much an American thing. The country I come from isn't very culturally similar to America, and people there just didn't want it. Like a lot of non-Americans I first really became aware of it through the Halloween sequence in Spielberg's film, ET.
So it's something about kids dressing up in marketing outfits for various US franchises, and going door-to-door begging for sugar. So, I thought, it's tacky and a bit greedy, And the voices of my parents, sounding in the back of my brain, told me that this was a dumb, kind of ugly festival. 
I had another objection. Halloween is probably (not certainly, but probably) the Celtic festival of Samhain, which took place at the same time in the year, and had a theme of death and the lost souls of the dead. In taking it over, Christians gave it a Christian veneer. In this case, it was a night of licence, for indulging the wicked flesh, before everybody goes to church in the morning and people are then supposed to reject the flesh and the devil, and return to Christian asceticism, anti-sex, anti-this world doctrines.
That idea, the wickedness of the human body and the natural world, is one of the things I most dislike about Christianity.   
But it's been steadily losing its religious roots, both Celtic (believe me, ancient pagans mostly get a good press, but they really don't deserve it) and Christian, and it's steadily evolved into something much nicer.
Basically these days it's a festival of geek, a cos-play extravaganza. And there are no threatened "tricks". The slight blackmail element of the old festival has faded away.
So I got visited by a great horde of seven-year-old girls, a couple of moms standing a  carefully calculated distance away. They were all dressed as princesses, mostly Disney princesses but a few fairy princesses too, a sort of ballerina, and a couple of girls in home-made Wonder Women costumes. (So Yay to their moms!) They were far too charming to lecture about this dumb festival. I didn't have anything prepared, so I gave them dried raisins and apricots, and chocolate.
So the transaction wasn't, "Trick or treat". It was, "don't we look amazing? We dressed up for you adults, so pay us in sugar!"
Later I went shopping for bread and milk and such, and there were Goth girls everywhere, and real estate saleswomen, shop assistants and a woman I always notice in the chemist all dressed up, as Goth girls and other fantasy costumes. Anything that brings out women in velvet corsets, black lippy and choker collars is ok with me. Plus there were witches, Wonder Women and an amazing Cat Girl or two.
Next year I'll be in it. I'm going to find me a blind harpist, and dress as a bard, we'll go door-to-door singing Welsh Death Ballads until they give us marijuana and ask us to go away. You have to be polite to a bard. We can immortalise you in poetry, and its up to us whether you look good or stupid.
Anyway, Halloween! Not Christian, not Pagan: it's a festival of slightly kinky cosplay!