This excellent and very sexy book is aiming to be on sale through Amazon, Barnes and Noble, Apple Books, 24symbols, and tolino. It is already being sold through Rakuten Kobo, Angus and Robinson, and Vivlio. To purchase through your favoured seller, go here.
So the free version on my site is no longer available. Here's a quick guide to what it's about.
Charmayanne and Jack meet for the first time in her kitchen. They find that the heat between them builds and builds, and their sexual games become steadily more complex and exciting…
Troubled young Charmayanne Else is a former member of a violent gang, though she got out when her conscience and her commonsense woke up again. 
She agrees to be interviewed about her experiences by journalist Jack Molay. But the interview becomes a mutual seduction when they discover that though they have little in common, they're attracted to each other. And soon after that, they realise that Jack is a Dom, and Charmayanne is submissive.
She is aware that she has done some very bad things, and she has some atoning to do. And only after she has fully paid, with Jack's willing help, can she begin the process of forgiving herself.  
With the help of a ruler and an old razor strop from her mother's farm, and Jack's guiding hand, that atonement begins…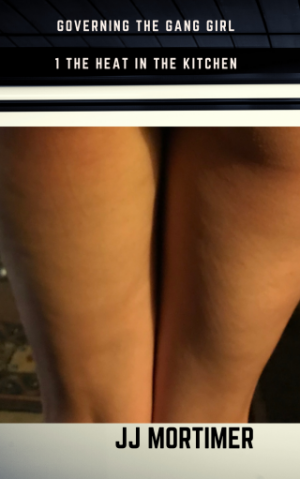 And here's a sample:
From: Governing the Gang Girl 1: The Heat in the Kitchen
Charmayanne's gesture was like a captured soldier in an old war film. She held her arms straight up, palms upwards. A show of surrender, that was partly comic, but also real.
Charmayanne was being obedient. Not by accident. Not ambiguously. This time she looked at me. Her belly showed palely, as the jersey's hem was lifted by her arms. I still had my fingers wetly, warmly held inside her. Her face was expressionless, carefully so.
In a sense rather wider than I'd asked, she'd surrendered. I wondered if she'd bitten me, seconds before her surrender, so that I'd punish her for it. Maybe she'd been angry with me for making her want to surrender. But her motives didn't matter anymore. Charmayanne waited, arms up.
That moment of give, of decided submission, is the best thing I know. It's like the moving, clashing and realignment of tectonic plates. It seems to happen very slowly, so you have time to watch every expression, and every hesitation or tremor or decision in the submissive's voice. And then it moves, and that moment shakes the earth. The world is never the same again.
Charmayanne had given me her submission, and therefore herself, without any more protest. Except for biting my neck and calling me a bastard, which is quite a lot of protest, really. Still, the atmosphere in that kitchen had changed. Grandly and perhaps irrevocably.
Charmayanne stood, jeans and panties halfway down her thighs and her arms held up in a gesture that meant surrender. It also meant I should remove her jersey, which was all she was wearing above the waist. Actually it was all she was wearing above her mid-thighs, where her jeans and panties had gathered, abandoned. 
I looked at her and nodded interrogatively, eyebrows raised. "You're sure?" 
It was a last chance to back out. Charmayanne nodded back, eyes down.
"This is beautifully written erotica, incredibly hot, about people who feel like real, three-dimensional people. Some bdsm events are harsh, but the atmosphere is always loving. JJ Mortimer turns human details and erotic details into pure steamy sexiness. Reading it is like being there, on a wonderful sensual ride!"
Isadora D Hawkins, reviewer.