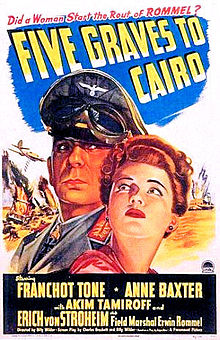 I've got a thing for movies written by Billy Wilder. They tend to be brilliantly witty, and to pack in as much sexually subversive material as he could get away with. His films include age play, homosexuality, lesbian hints, cross-dressing, just off the top of my head. And it seems that almost every film he made included a spanking threat, which would be received with purring pleasure by the intended victim.   
Here's the dialogue from one of his few non-comedy films, the World War II drama Five Graves to Cairo, featuring German supply dumps, Erich von Stroheim doing his arrogant Nazi schtick, heroic resistance fighters and a stranded British corporal. 
Anne Baxter is the heroic resister of all things German, who puts up relatively little resistance to the charms of the British chap played by Franchot Tone.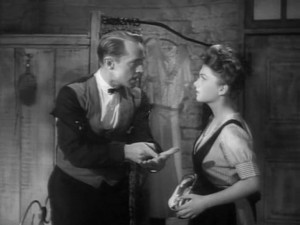 Franchot Tone: If the circumstances we find ourselves in were not so extraordinary, I might turn you over my knee and spank you with abandon.
Anne Baxter: Thank you for your interest.
Franchot Tone: Not at all.
So polite. Since I saw this film I've been looking for an excuse to say Franchot Tone's line to someone, but I haven't found the right extraordinary circumstances, yet.