I'm at a sexology conference in Malmö, in south Sweden. It's just across the water from Copenhagen, with a rail bridge connecting the two cities, and countries.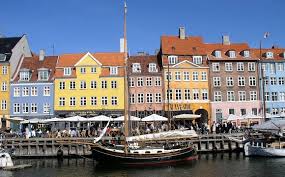 Malmö's not as cool a town as Copenhagen, where I'd move at the drop of a troll hat. I haven't found a really nice place in the shade looking at water, where some waiter will bring me beers or mineral waters whenever I manage to make eye contact. Lots of places like that in Copenhagen; scarcer in Malmö.
Before I get to my question, here are some observations about Scandinavia, as experienced by me so far. 
1  The people here, and the way of doing things, are friendly and (some people would say "but") punctual and efficient. 
2  It's all very civilised. For example, they've preserved weekends as times when friends and family can get together and do things, because most people aren't working at week-ends. Most English-speaking countries were fooled and bullied into giving that away, at great social cost and to no economic benefit. 
3  However, they can't make a cup of chai tea to save their lives. I asked for a cup in Christiania in Copenhagen, and the girl asked me "what flavour". By "chai" they mean some sort of powder that you mix with hot water, and that might be vanilla, chocolate, strawberry or whatever. 
4  You should have heard the cheers when England lost to Iceland at soccer the other day. Brexit has not exactly endeared the English to Europeans. 
5  There are no non-pretty girls in Scandinavia. Or if there is one, she must be hiding in Trollhättan. (Trollhättan is a town in Sweden. I think of it as meaning "Behatted Troll". Obviously, it doesn't mean that. I think "hättan" has the same meaning as in "Manhattan".)
Anyway, at the conference there are poster sessions for academics who have something interesting to say, but who don't have the material or weight for a full session of their own. So you get a room full of posters, with the relevant person standing beside it hoping you're interested enough to want to talk about their work.  
The orgasm question
One raised a question about male and female orgasm. It's that some women can come without touching their own genitals, or having someone else do it for them. Just the arousal, the flow of erotic ideas, can bring them to orgasm. But men can't do that. They can get erect, obviously, without penile touch by themselves or others, but they can't come without touch. They need friction, ideally slippery friction, to be able to come. 
I thought about that. In bdsm we do a lot of orgasm control. Me, I like female orgasms (I might be a female orgasm fetishist), so as a dom I may deny a submissive girl the right to come without my permission, and sometimes withhold that permission when she really, really wants to let go. However, usually I don't deny her for long, if we're in the same bed. Even a few minutes of denial, where she's fighting back her orgasm while still being vigorously fucked, can get a huge release when I finally tell her to come. 
There are doms who've taken that further than I've ever felt the urge to. So they might deny the girl any orgasm while she's being fucked. And then tell her to hold herself in suspense, not erotically relaxing, until he or she gives the word.
Because I like female orgasms, and the more of them the merrier, I've never done the kind of training. you need for that However, I've met submissive women who can hold on to their peak ready-to-come level for over an hour, and you can command them to come when they're doing something like watching a movie or doing the dishes. I think of that as interesting rather than peak sexy, but it is interesting.
The closest I've come to that is getting a girl to come by tying her legs apart and her hands behind her back, and telling her a story calculated to appeal to her particular sexual tastes and fantasies. It's the best possible writer's audience. 
But she was cheating in a way. That is, she wasn't being touched externally, but she could get physical stimulation by clenching and unclenching the muscles around her vulva and clitoris.
I think that's how women get to orgasm without apparent touch, though I could be wrong.
But men … We don't seem to be able to do that, or any useful equivalent. If I have an erection, and I clench the muscles around my penis, I'll make it wave up and down in a friendly way. But there's no stimulation for me in it.
And I thought: If anyone can make a man, at least a submissive man, come without his being touched, it'd be a pro-domme. I asked this on Twitter, and got a couple of replies from pro-dommes saying that they'd never seen it done.   
Now I'm throwing the question to the room. Does anybody know of men being made to come without touch?
I'd  count it if the dom/domme used touch to bring the man close to orgasm, followed by orgasm denial, followed by instructing him to stay ready, and more than an hour passing before he was told to come. 
Can anyone help? (I mean, with reports of having that done to them, or doing it to some guy.)