Raylene made a small sound, part sigh and part moan. She was no longer capable of feeling pain, the right kind of pain, as anything but sexual. Then, a second or two later, she said, "Ooh, ouch," pronounced as written, to show me that it hadn't hurt. So there! She was still feeling playful.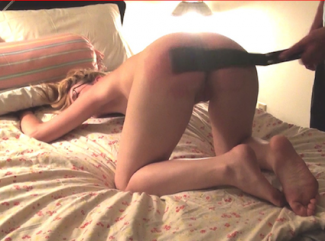 I didn't want her playful. Playfulness has its place but in this moment it was only going to distract us, and deflect her from feeling the things I wanted her to feel. I decided on her behalf that she didn't want that either. So I swung the strop again, a little harder, letting it land smartly across her lower buttocks. Raylene yelped and her ass waggled rapidly, side to side like a dog emerging from a river.
I let there be growl. "Quiet, girl."
She puffed three times and made herself still again. After a while she blushed, though I didn't know why. She hung her head, looking down at her sheet. I pulled her pillow down the bed so it was under her head. "Get your head on the pillow, girl. And stretch your arms out. To the side, that's it. Keep your ass up." Raylene obeyed, her back tightly arched. She was a folded girl, breasts and shoulders, knees and toes on the bed, ass in the air.    
I watched Raylene obey. I needed to push her down further, so she was focussed, solemn, and dropped into submission. "Raylene. when I give you an order, any order, I want you to obey quickly. Don't think, just do as you're told. Understood?"
Raylene nodded, face in her pillow. I said, "Speak."
"Yes, sir."
"You make sure you do. This little strop can hurt you, if you ask for it."
Raylene said nothing. She thought her permission to speak had expired. It probably had. Instead, she showed her acquiescence by moving her right knee a little further to the right. The movement displayed her cunt to greater advantage. She was visibly a wet, needy girl. 
I said, as if I were unmoved by Raylene's offering, "Right. You've got eight strokes coming. But you're going to have to wait for them now, girl."
Raylene made a snuffling noise into the pillow. I supposed she didn't like the idea of waiting. I stood behind her and pulled my shirt off, then my shoes and socks, very quitly, and then my pants and underpants. My cock flicked free, pleased to be unconstricted by clothes. I condommed up, and tossed the razor strop so she could feel it lying beside her left breast, and climbed, on my knees, onto the bed behind her.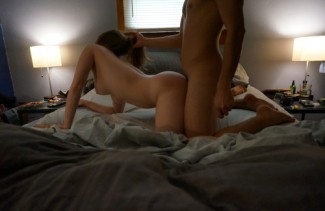 I put my hand on her hip to steady myself, and held my cock with the other, to guide it till it pressed against that syrupy tropical flower that was Raylene's cunt. She froze at the touch of my cock, hard against soft and wet lips. Then she moved backwards suddenly, trying to engulf my cock, to get it deeper into her. I tightened my grip on her hip, and held her still. 
She won anyway. I'd been intending to enter her slowly, letting her feel each centimetre opening and  filling her cunt. That would torture me as well as her, and I found that I couldn't hold back. We pushed at each other, joining until I was pressed hard against the hot skin of her ass and thighs, and my cock was deep within a smooth and sugary paradise.
She said, "ah", which was all that really needed to be said. I could feel her shaking. I withdrew so the head of my cock was just inside her, and took her again.
Raylene made another pleasured sound, low and musical. Her hands clenched.