Why I wrote this
A woman I know has found a new Dom, who hasn't had any bdsm experience. He's finding it hard to find the half-way point between martial arts levels of discipline and being too light. He asked me to give him some counsel, and I wrote him this. 
1 Know how happy and amazed you should be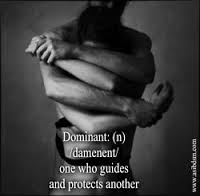 The trust and love of a submissive woman is pretty much the best thing in the world. You're incredibly lucky and privileged to be well on the road to having it. At the same time, for your sake and hers, it's important that she feels privileged to have such a strict but loving dom.
Now, she's going to give you some rights over her that most women would be shocked to grant to a man. Her body becomes yours, to enjoy as you will. And you have the right to discipline her. The sensations that come from giving that kind of – sometimes painful – guidance and correction when she misbehaves, can be very intense.
2 You have duties
But you can't ever forget what she's giving you those rights for. She expects and wants certain things from you, including safety, a feeling of being loved and cared for, pleasure, and having enough leeway to be frilly and silly, and she needs fun and mischief. You want to enjoy her submission, and that's only going to work in the longer term if she's a happy girl.
So, she may surrender all her power to you, but there's still a quid pro quo. You could spend an hour in which she sucks your cock, while you teach her how you like that done, and use the crop across her arse if she's not enthusiastic enough. Theoretically you could keep that going for an evening, with a noticeable drop-off in enthusiasm but probably without too much complaint. Two evenings in a row, and you're going to have a sulky girl who's less fun to be around.
I'm not sure at what point she'd slam her door, with you on the outside of that door, but that point would come.
The point is that for all you're in charge, and she's surrendered to you, if you don't meet her needs then eventually things won't work so well.
 3  Discipline and a submissive girl
That brings us to discipline. It's an important thing between a dom and his submissive. It's one of the most important ways in which the dom sets limits for her, and establishes that those boundaries can't be crossed without consequences. She will be happier with limits, and happy that you care enough to monitor whether she stays within them. Sometimes she won't be very happy at all, while the punishment is proceeding. But your goal should be to make sure she can be happy shortly afterwards.
If she can be cheeky to you, within half an hour of getting the cane, then you've done well.
Why do you want her to be able to be cheeky to you? It's because of what makes a submissive woman most satisfactory to be with. You don't want her to be perfect, and you don't want her so afraid that she's always watching out that she never annoys you. The balance you want is a girl who knows that you're in charge, but isn't afraid of you.
She should be afraid of doing things that you have warned her will bring her a severe punishment, but she should know that that comes from your care for her: and she should be afraid only of the specified severe punishment, and not afraid of you. She should be clearly told in advance what things will lead to severe punishment. That means she should always be able to avoid it, with just a bit of care. 
So respecting you, loving you while accepting that she does as she's told: those things require you to give her some discipline, but you also need to show her a lot of love.
Most of the time, a hand spanking over your knee will give her the guidance she needs. You keep spanking till you can hear that she's not laughing any more, and it's got through to her. But she'll probably be playful and a bit cheeky again before the red has faded.
That's okay. If she's cheeky, then spank her some more – for the fun of it –  and she'll find a way of making that the start of an amusing and sexy evening.
4  The balance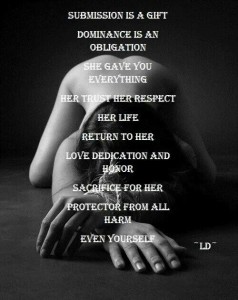 So it's right to set clear rules and consequences, and it's right that in some cases punishment should be harsh enough to make her remember and fear getting that consequence again. But most of the time you and your new submissive are dancing together. In that dance you're in control, overall, but she should be able to be herself too, to please and amuse you. And she should be having fun.
So don't be too harsh. Don't let her get away with things too much, either; a good hard hand spanking over your knee will never do her any harm.
Above all, you don't want to tame her too far, let alone break her will. Her little rebellions are part of your dance, and you'll come to enjoy having to put down the occasional insurrection. With a smile on your lips and a song in your heart.
Finally, I hear that you've bought your first riding crop. Good, and I hope it sees a lot of use. But that little that tassel on the end of the crop? Most of the time, that's the part of the crop you use. You can apply it to her most intimate places. You only use the shaft of the crop when you want to teach one of those harsh lessons I mentioned. 
Be careful, be loving, and always keep your sense of humour. Good luck!
Who the hell am I to say this?
I wrote that advice, above, because Lican has met a man. He's not experienced in bdsm, but she thinks he's a natural dom. But she's worried because he reads things on the net, and he sometimes thinks he's going to get absolute obedience from her and he's going to base his disciplinary regime on stories he reads that are based on internet play and not reallity. 
She told him about me, and he asked me to write something for him. I've posted it here because I hope it might be useful to someone else, and because I'd be keen to hear comments.
The thing is, I'm not feeling like the man who knows everything at the moment. I know some things, but my heart is currently ripped to shit because the woman I love left me, and that's still the most important fact in my life. (Bless Lican, but I don't mean Lican.) No-one feels clever alone, with their heart ripped open. Still, the things I've written here are things I do know, for what that's worth.