"Why what, Raylene?" It wasn't a command, but that was in the command voice.
"I mean, why are you going to punish me? Sir?"
"Because you didn't bring me the, well, instrument that you saw in the second drawer."
"Ah." Raylene opened her eyes. Wide. She also looked ashamed of herself. I liked that. "Oh. You saw that?"
"Yes. Well, not the thing itself. But I saw you, and you saw something just exactly right for keeping you obedient. Didn't you? 
There was a pause, while I pleasured her with my fingers in her, and Raylene focused on that. Eventually she said, "Uh yer. Yes. Uh. Sir."
"And you knew you should have brought it to me."
 Raylene nodded, resigned. "Sir."
 "And you decided not to." 
Suddenly Raylene laughed. "I – Um, this isn't going to help. But I thought you might use it on me, Sir."
I managed not to laugh with her, thought it would have been natural. But I thought the mood we'd established was about right, and I wasn't going to let her lighten it. So I said, "Of course I am. You're going to bring it to me now, Raylene."
"Yes, Sir. And … I am sorry, sir."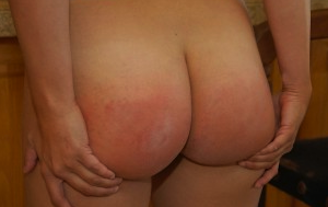 So I could relax and grin when Raylene turned away from me and shuffled back to the drawers, showing off the handprints on her bottom, to fetch some instrument that she'd thought would be too terrible to show me.
I had no idea what it might be.
Kitchen? Of course we're still in the kitchen. Is there a universe outside this kitchen?