Raylene frowned and looked at her feet, hands still on her head. I realised that the question I'd just asked her (should we spank your breast a bit harder?) was a difficult one.
She didn't want to answer something like, "well, who the fuck do you think you are?" since that would, on the whole, break the mood. And she seemed to be enjoying the mood. But she had an idea – correctly, as it happens – that if she said, "No, sir", that would have painful consequences. While she was calling me "Sir" she'd better not say "no".
But saying "yes, Sir" was out of the question too. It admitted much too much.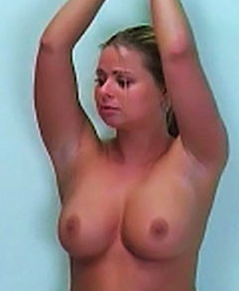 After about thirty seconds of thought Raylene dropped her eyes and bowed her head. Play-acting, but never wrong. She said, "Sir."
"Good!" I was impressed. "That was clever, Raylene. Good answer."
This time she did smile for a second before her face became intent again. But I placed my palm flat under that left breast, and lifted a little to give myself a better target. I drew back the ruler and smacked the same area, as promised, a bit harder.
The same sound of impact, but louder, and a beautiful shockwave of flesh, which quickly settled back to resilient roundness. But now there was a definite pink stripe, a band about an inch wide across her soft paleness. Her breast displayed two pinks; her dried-paw-paw nipple and below that the rose pink of punishment.
Raylene had not moved. She let out a long, reflective, audible breath. I let her take a couple of breaths to recover, then said, "Deep breath again, Raylene, and hold it. And keep still."
And I pressed the ruler against that pink band it had made. And then drew it back. I wanted her to know the next impact would be harder still. And I wanted her to consider that, and hold herself still, and offer herself for it.
 Are we still in the kitchen? Bother. It seems we still are.