The previous episode is here.
I should have had more faith in Maddie. The message that Jennifer Perch was to report back to the headmaster's office, immediately after her last class, went over the PA system just before the lunch break.
That gave her fellow pupils an hour to tease her about how she must really be in trouble this time. And the rest of the school day trying to concentrate on her work while she worried about what was in store for her, when she entered my office for the second time.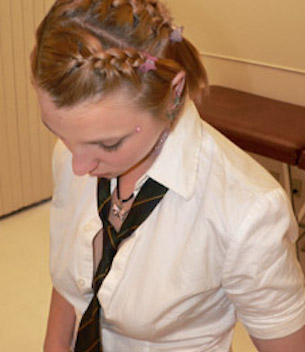 So she was pale, and her voice trembled when she stood in front of my desk. She was acutely self-conscious. She'd give anything not to be here. But she said, "You wanted to see me, sir."
I looked at her, unsmiling, saying nothing, until her bare knees shook. She was fighting back tears, certain she was about to be spanked again. Or worse.
Finally I said, "Your uniform."
"Yes sir?"
"Jennifer, you're out of uniform. In school hours. That's a serious offence. The school regulations clearly state that the uniform will be appropriately fitted. Yours is at least two sizes too small."
Jennifer blushed furiously. "I know, sir. But my mother bought it without me. And when I put it on, and found it was too small, the shop wouldn't take it back. My mother had already ironed it. There's a … well, you can see where she she'd set the iron too hot, when she started. But … but she said she'd talked to you, and that you'd said it would be ok."
She sounded almost frantic now. She'd realized that she couldn't be sure that her mother had told her the truth. She watched me like a rabbit watches an approaching dog.
I still hadn't smiled. "Yes, she did. And I did agree. But that, Jennifer, was before I understood that you were taking advantage of your uniform to make an indecent display of yourself. Yes?"
Jennifer thought. I meant before school this morning, how she'd displayed herself for the boysl. The tears spilled at last, and she hung her head. "Yes, sir."
"Look at me, Jennifer." She did, and I finally smiled at her. She took a deep breath and gulped, and some of the tension left her face and body. "And we dealt with that this morning. Thoroughly, I think?" I looked at her. After a second or two she smiled.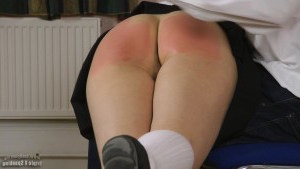 "Yes, sir." Her bottom would have recovered by now, and the memory of her spanking was not entirely unpleasant. More embarrassing than painful, and some of her feelings had had nothing to do with embarrassment. Her thighs had trembled, slightly parted, while she'd hovered on the brink of orgasm.
And the thought of her experience made her smile. We shared a moment of complicity.
"Well, Jennifer, I haven't called you back to re-visit that incident. I'm more interested in making sure it doesn't happen again."
"Sir?"
"Jennifer, you know that this morning you were playing up to the expectations that had been created for you by that uniform. You were being teased, and boys couldn't take their eyes off you. Your immodest display was your way of dealing with that. Or trying to take control of it. Yes?"
"I suppose, sir."
"I don't think it's naturally you. And the way you tried to deal with it didn't turn out so well, did it?"
The flush was back. That bare-bottomed spanking over my knee. It was never far away. "I – I suppose it didn't, sir."
"I don't just mean your spanking, girl. That put a stop to it. Or it better have." She nodded fervently. "If that happens again, I'll cane you, Jennifer. Twelve of the best. Understand?"
She put her right foot over her left foot so she stood cross-legged before me. "I do, sir."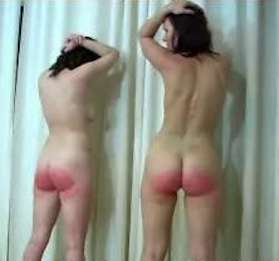 "You possibly heard that I had to paddle two girls from your class yesterday. Yes?"
"Yes, sir."
"You know what they were wearing when I'd finished with them?"
"No. They haven't talked about it. Not to me, anyway."
"Well. I can see that they wouldn't want it known."
I was giving her a powerful gift, of course. In her class, and in her circle, gossip is power. "The pair of them were wearing red paddle marks across their bottoms. Nothing else. Nothing at all."
"Oh." Jennifer was wide-eyed.
"I am authorised to specify what pupils will wear while they're being punished, Jennifer. Now, if I have to give you those twelve strokes, Jennifer -"
"You won't! Sir, I promise you won't!"
"Well, we'll see. But you see how what those two silly girls were wearing will apply to you?"
Her mouth dropped open.
"You won't be worrying about uniforms, if you earn yourself a dose of the cane, Jennifer. Twelve strokes. Naked."  
"Oh sir!" Oddly, I had no idea what she meant by that.
The next episode is here.