I withdrew and returned, still moving slow, while Claire shuddered under me, pain and heat changed into heat and need. Sexual alchemy. We fucked excruciatingly slowly, until I heard something in her breathing, and her hands had clenched on the bedclothes again.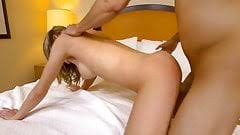 I sped up, still maintaining a medium pace, grinding luxuriously against her heated, presented bottom, then withdrawing to ram into her again. Claire moaned openly under me. I heard her breath quickening. She'd been ready to come, almost at a touch, before we started fucking.
"Claire, girls like you don't get to come without permission. But you can beg for permission when you need."
"Master! Uh!" Claire's mouth and eyes were wide open. The bedspread by her mouth was dark with her drool. Her hands worked. She answered my thrusts with her own movements, trying to keep her ass pressed against me and my cock buried deep. 
We sped up again. I knew she was close. It didn't take her long. "Please, please. Master! Please Master!"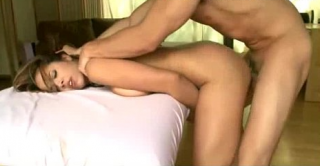 I smiled. She was shaking her head, frantic with need. "Would you like to come, Claire?"
"Please, please." 
Some gifts are better if they have to be worked for. "Then ask me properly."
"May I come Master? Please."
Waiting makes a gift seem bigger, too. "No."
"No? Please please please…"
I said, "Hmm…"