The previous episode is here.
I was washing myself in Sir's bath while he watched. It was an interesting experience. He said nothing, and looked into my eyes, not at my body. I felt shy at first, but less so by the time I washed my feet. Which, by the way, is about the most exposed thing to do in front of a man. By then I was enjoying myself, because he said nothing, but smiled at me. So I could flirt a little. 
But then I heard a clunk sound from somewhere in the house. The washing machine had finished and switched itself off. He said, "All right, Maddie. Time to get out." He picked up a nice warm, fluffy towel and stood beside the bath reaching down his hand, I took his hand and stood up, and he wrapped the towel round my shoulders. "Get yourself dry, girl. And then come out, the way I told you. Stand beside the armchair, hands on head. I'll be with you shortly."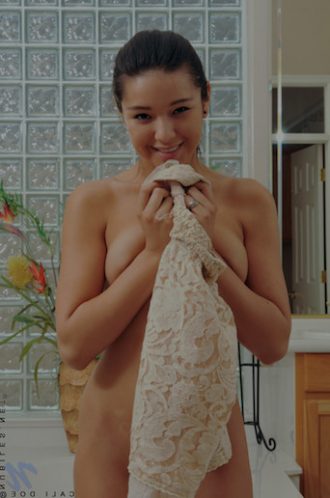 And he left, I guessed to deal with my clothes and put them in the drier. I looked at myself in the mirror. I liked myself. I was clean, and pink. The boiled lobster look never goes out of style! 
I was going to have my head dangling down to the carpet soon, while he spanked me. I thought about putting my hair up. But I wasn't sure that I could do that so that it wouldn't fall out while I was getting my bottom warmed. Also, I guessed he wouldn't like it much. So I plaited it. 
Out in the living room there was a big tan leather armchair with a round arm. There were other armchairs but I knew that was the one he meant.
So I stood beside it as he'd ordered. And I thought about what was coming. I'd liked being spanked by him from the very first time. It seemed so long ago, now. But I already knew, once I'd felt his hand on my bottom, that this felt incredibly right, and sexy, and good. 
This was going to be the first time he'd spanked me naked, and that felt right too. We didn't have to pretend any more. There was the horrible thing that had happened to me, only three hours ago, but though that meant we weren't going to fuck tonight, it wasn't going to be long. Whenever he said, as far as I was concerned.
Then he came back. "Good girl, Maddie." 
"Thank you, Sir." 
"Take that towel off, then get back in position." 
"Yes, Sir." I only had to twitch it at my left shoulder and it fell away, at my feet. The air was warm around my body. I could feel steam rising from me. Literally, as well as metaphorically of course. He'd put the heating on. I hoped that when we fucked it would be here, and not in his office. 
Then he came close, and he put his hand on my jaw and lifted my face a little. He smiled down at me, and then kissed me. It was our first kiss, and my heart was beating so hard, and my cunt felt like it was melting. I was so turned on; I wanted him to fuck me then, so, so much.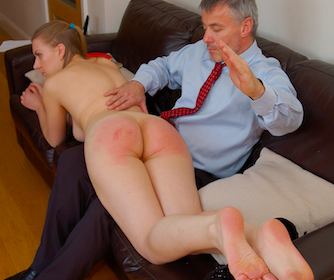 But he smacked my bottom, not hard. Fondly. It hadn't occured to me that you could spank a girl fondly. It seemed a nice thing to know.
He sat in that chair, holding my hand, and then he pulled me down, over his knee. There was my face, so close to the carpet, my fingertips and my toes resting on it. And my bottom up and poised for him. 
"Maddie. Why are you getting this spanking?"
I had to think. I couldn't care less, just then, why he was going to spank me. It was so hot and warm for me that he wanted to, and that was all I knew. But I remembered. "Because I lied to you, Sir." 
"Yes, you did, girl. But you were just being a little bit mischievous. I'd hate for you ever to lose that. Not completely, though you'll often go too far and have to be put in your place. Won't you?" 
I had to smile. "Yes, Sir. I expect so." 
He put his hand on my bottom then, and squeezed me. God, it felt good. I was so wet. He said, "So. You're getting this spanking because I think it'll bring you back to the world. You'll know where you are and feel better. In the familiar world. Because you know you're going to be spanked often, don't you, Maddie?" 
"Yes, I do do, Sir. And I know, now I'm not scared any more, that I'll love that." 
I heard him laugh, very quietly. "Oh, I don't think you'll enjoy every time, Maddie. Sometimes I'll be setting out to punish you properly. What I think you'll love is being a girl who has to do as she's told, and gets punished if she doesn't." 
He smacked me again, and again, one on each side. He hadn't asked me a question, but I said, "Yes, Sir."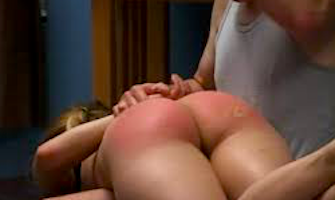 "Good girl. Head down, thighs right apart." 
I obeyed, forgetting to say yes Sir because his hand was coming down on my bottom now, over and over, warm and hard. I knew nothing except his lap, which came with a hard cock pushed against my hip, and his hand.
His hand landed on the backs of my thighs, and the sides of my bottom, and then more and more on the sit spot, where – I was starting to realise – I like it most. 
I knew I was bright red by then, and it was starting to burn, but he kept on, hurting me and comforting me at once, over and over. I lost count of how many smacks he'd given me, and I'd lost all track of time. I just knew that I wanted him to continue, because there was … something ahead for me, and his spanking me was driving me towards it. 
Eventually he relented and stroked my cunt, in amongst the smacks, and the thing I was heading for started to come at me, like a train at the other end of the tunnel. I spread my thighs as wide as I possibly could, to make him stroke my cunt more, but mostly he concentrated on the spanking, pushing me harder and harder. 
And – I don't know. The train hit me. I came so hard over his knee, my head up and my legs in the air, one screaming girl, blissed out. Eventually I collapsed back on his knee, head down, legs limp, his hand resting on my bottom, stroking. 
His cock was so hard. Harder even than when I'd sucked him in his office. Bigger. I breathed. I wished I could look at him, but his hand held me firmly down. My body wanted him so strongly that it took me a while to realise I hadn't actually asked. Not out loud, not in so many words. "Fuck me, Sir? Will you fuck me please, Sir?"
The next episode is here.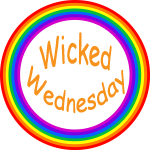 Note
I really wanted to do the prompt this week. It's a good one. But the Jennifer and Maddie saga belongs to Wicked Wednesday. And I simply couldn't fit an alien or even a visitor, let alone refugee policy, into this week's episode. Sorry about that.