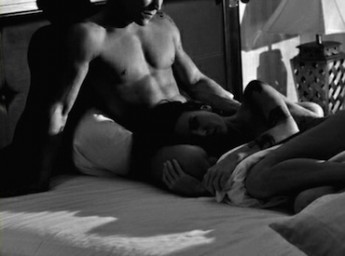 Raylene had turned her back to me and closed her eyes, so I'd pulled a sheet up from the floor and draped it over us, but mostly her, and put an arm round her.
She slept while I watched her, snuggled in close, the heat and feminine roundness of her arse pressed against me.
My cock was still wet with her fluids, comfortable and exhausted. And smug: I remembered Raylene's screams, and that we'd lost count of her orgasms.
Raylene may have had a similar memory, because she pushed her hips back, making the querulous little moan that babies make when they're starting to wake up. Her mouth opened and closed as if she was sucking her thumb, and she rubbed her ass against me. Maybe she wanted to let the coolness of my body take some of the heat from her strapped bottom and thighs. Maybe she wanted my cock to wake up and show some interest. Her mouth stopped working on that imaginary thumb, and her breathing relaxed. She was asleep again, but she still undulated her hips, very slowly.
The heat of her skin against my cock reminded me of how we'd spent our afternoon, and thoughts about that got me to semi-erect. So my cock pressed slightly more firmly against her ass, and that tighter contact meant that my cock got harder. And so on. It's a virtuous circle.
So I began to pump her, my cock sliding along the crevice between her buttocks. Raylene began to move her ass in time with my thrusts. Her eyes were still closed and her breathing was still regular and quiet, but it was obvious that she'd woken and was only pretending to be asleep. So I reached down under the sheet, and stroked her bottom lightly, and then smacked her. She turned and gazed at me, shocked and betrayed.
"I'd be sorry to have woken you. But I didn't, did I?"
Raylene rolled onto her back and rubbed her eyes. "I thought you might try to fuck me while I was asleep. I was going to let you win."
"I'd have to do a fair bit of shoving you about before I could just stick my cock in. Roll you over, get your legs apart, get your ass up, depending on how I'm going to fuck you. And if you – if any woman – looks asleep while that's going on, then you're faking. Or you're drunk or drugged out of your brain, and … Well. Not my idea of a good time."
"Yeah. Creepy, that shit."
There was something in her voice. "That's happened to you?"
"You lie down with boot boys…" She pulled a face. "Can I tell you some other time? Right now it'd be a buzzkill. Sir."
"Ernfff. Okay, we can talk about it later. Would you like -?"
"What I'd like to do is suck your cock."
I'd been about to offer to get her a glass of water. But that seemed more interesting. "Well, you'll have to beg nicely." 
"Please, Sir, can I… Wait a minute. I have to beg you to be allowed to suck your cock?" 
"Well, you get to serve me. And it's a very nice cock. But what's in it for me?" 
Raylene looked at me, astonished. Then she laughed. "Yeah ok-ay. An oldie but a goodie. So, please sir, may I pretty please have the pleasure of sucking your cock?"
"I think so. But I think I'll have you tied for that." I looked around her room, not finding what I wanted. "Got any rope? Or cord, maybe?"