Raylene nodded, indicating the further door with her head. "My room's at the end of the corridor. You'll have to excuse the mess a bit. I wasn't expecting … Oh well."
And that – her failure to say "Sir" after so many reminders – is how these things get decided. Just a few moments earlier I'd thought that I couldn't wait and I was going to fuck her on the stairs, here and now. The razor strop experience could come later. But we'd got to the stage that we both understood that Raylene was supposed to do as she was told, and I felt genuine indignation when she didn't. So I didn't even think or hesitate before I lifted the razor strop and swung it.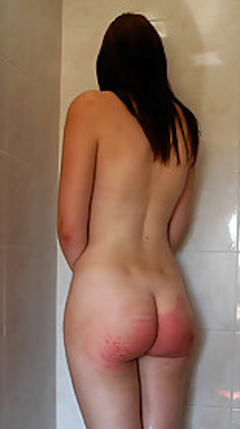 The leather lashed across her lower buttocks, the end wrapping round and biting into her right hip. The sound of that impact filled the corridor. It seemed to fill the house. Silence echoed, afterwards. I'd struck her much harder than I would have, if I'd thought for even a second.
But I wasn't shocked by that; the force that had made me punish her still drove me. "Raylene, you've been told. What do you call me?" I used the command voice. That also seemed quite loud. 
Raylene's eyes were wide, as this sudden event and the pain it had brought continued to sink in. The stripe was already rising and prettily red. She clutched her bundle of clothes tight against her breasts. Her mouth opened, silently. She hadn't cried out.
I watched her, fascinated. Her pain was still building.