Raylene holding out a ruler, level with her nipples, was an enticing sight. She looked like one of the bare-breasted dancing slavegirls on an Egyptian frieze.
Actually, she looked rather like a woman who'd posed submissively before. For all I knew, she looked like a girl who'd read some girls' mag article on bdsm ("Top 10 submissive postures to stun YOUR boyfriend!").
So I was enticed, as I said, though I hadn't forgotten that she'd seen something in the second drawer, and decided not to show it to me. I said, "bring it here then."
Raylene shuffled forward so that the jeans and knickers fell further, around her knees. She had to bunny-hop the last few feet towards me. She saw me watching her breasts, and knew that they looked good in motion.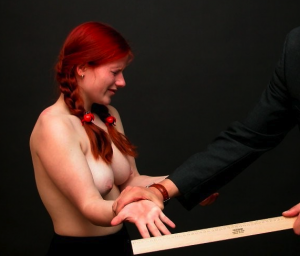 When she reached me and stopped, they still looked good. I took the ruler from her, and looked at her eyes.
Raylene hesitated, then put her hands back on her head without being told, determined to appear a good girl. I said, "Take a deep breath, Raylene. And hold it."
"Yes, sir."
Raylene was being extra-good now, perhaps wondering if I had seen her hesitate over that second drawer. She drew in her breath and her tummy, the movement lifting her breasts.
"Good girl." Not that she was a good girl, at this moment. I held her left breast, squeezing lightly, enjoying the heft and firmness of her. I smiled at Raylene, who had an idea that she was in trouble and didn't smile back. 
I touched the ruler just below her nipple, so that she knew for sure what was coming. Then I drew the ruler back from her breast and let her wait for a few seconds, watching her face.
That's it for now. We're still in the kitchen, I see.