The previous episode is here.
The cane landed low across my bottom, and I yelped. It surprised me by hurting so much when Sir wielded it seriously. I tried to keep still, but of course I didn't completely manage, and Lucy had to press hard on my shoulders. She opened her thighs a little, to push my head further down.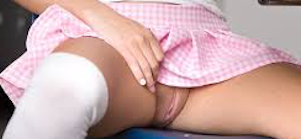 It was the strangest sensation, with my face between Lucy's lovely, softly plump thighs, and my bum out and arched up so Sir could hurt me. Lucy stroked my shoulder blades lightly with her fingertips, then resumed the downwards pressure. 
Sir said, "Good girl." But then he swung the cane again. I heard it swish through the wind, a moment before it hit me. We were both silent and solemn, we two girls, so the crack of it landing on me seemed to fill the room. It might have echoed, but it hurt too much for me to notice. It was even lower, just above the crease of my thighs.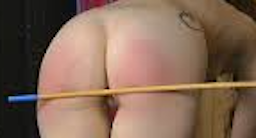 It cancelled out everything else in the world, and this time I cried out with the shock and pain of it. I kept myself still, so Lucy didn't have to push too hard. After all, she'd get the same if she let me get up, so I was responsible for her. I said, "Oh, sirrrr…" 
"Quiet, Maddie. Keep that bottom up. Ten to go. If you're good."
The third and fourth strokes came quickly after that, each lower than the one before, so that the fourth caught me right in that sensitive junction just below my underbum. I was still yowling from the third stroke when the fourth landed, so that I screamed at the fourth, and my head ducked lower into Lucy's softness while my bottom waggled from side to side. 
Lucy moaned slightly, and I could feel just a touch of wetness on my forehead. God! She was wet! My head had touched her cunt! Well, I couldn't talk: I was wet too. We were both, in our different ways, loving this. I wanted to kiss that little cunt, but the angles were wrong. I couldn't reach. I nuzzled her with my forehead again, though, and she moaned, leaning back, rocking a little, holding me tight.
 I had no idea what to do with a girl, and neither did she, I'm sure, but we both wanted to know. Maybe Sir might teach us, one day.
So I was smiling when the fifth and sixth strokes landed. Oh, I screamed and the tears ran down my face, and the stripes, all of them, hurt like fire, like being bitten by a snake, but I still smiled. 
Sir said, "That's halfway, Maddie. Do you have any idea how beautiful you look? With your stripes?"
"I've never seen, Sir. I've never been caned, and I've only seen…"
"Don't mention his name. Anyway, they're very pretty on you."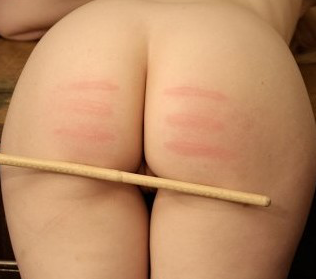 "I, uh, I'm glad you like them, Sir." That sounds ridiculous now, when I say that's what I said, but I meant it. I still do, whenever I get the cane.
There was a pause. With my head between Lucy's thighs I had to imagine his smile, but I knew it was there. "Oh," he said, "they're something to be proud of, Maddie."
"Yes. I think I will be. When I see them in the mirror."
"Would you like a record? I mean a photo? Now and after the twelve?"
"Yes! I'd love to see. And …" I would have blushed, except that my face was already as red as a tomato. "Maybe it's something to remember."
"Good girl, Maddie. Lucy, it'll be quite hard to take those shots without your thighs getting into the picture. Nothing else, just a pair of thighs. You can say no."
I expected Lucy to say no, but she didn't hesitate. "Yes. Of course. It's an important moment."
Sir said thank you. Sir faffed around with his phone for a while, and I said, "thank you," too. I kissed Lucy on the inside of her thighs, twice on each side.
Then I felt the cane tapping against my bottom again.  
The next episode is here.