The previous episode is here.
He smiled down at me, freshly orgasmic, freshly spanked, over his knee. I'd just asked him to fuck me, and I'd meant it. He put his hand back on my poor, sensitive bottom, and said, "No, Maddie. You know this isn't the right night. I want it to be special for you." 
I thought of arguing with him. But it seemed such a silly thing that I just giggled. He looked puzzled. "What, girl?" 
"I feel very special right now, sir. And I want you to… fuck me." 
He smacked me then. I yelped. "You don't argue with me, Maddie. Do you?" 
"No, Sir." Then I laughed again. "You can fuck me whenever you like." It sounded like such a strange thing to say to a man. I felt so grown-up over his knee, so forward, and so good, and so happy.
"Oh, girl, I certainly will. You don't want to have any choice on that, do you?"
I had to think about that. Then I said, truly, "No, I don't. That's what 'whenever you like' means. Always, Sir. Not just the first time."
He spanked me again, six smacks, not hard. They hurt me, but I knew he wanted me to feel good. I did.
 "Thank me for your spanking, Maddie." 
"Oh, yes, Sir! Thank you for spanking me. And thank you for making me come. It was glorious. If you don't mind me saying, Sir." 
He rubbed me where he'd spanked. I was ready to come again. He just had to… Then it struck that he didn't have to do anything. I was the one who had to do things. My life wasn't going to be fair. It was just going to be hot. At last he said, "I don't mind you saying, at all, Maddie. I'm pleased with you. In every way. You're a good girl. A perfect girl. You can be proud of that."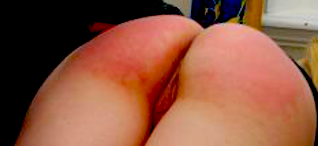 "Sir." I waggled my bottom at him. I hoped… Well, you know what I hoped.
He said, "But you need to get up now. Put your feet on the floor." He helped me up, still naked. "Keep your back to the fire, girl. Hands on head." 
I obeyed, and he disappeared for a while. He reappeared with my clothes, an iron and ironing board. "You can iron, I take it." 
"Better than my mother, Sir." 
He set up the board and plugged the iron. "All right. Show me." 
I reached for my panties – they didn't need ironing. He strode over quickly, held me, and bent me forward at the waist. His hand landed on my bottom, once, twice, then six times, then ten, and I wondered, yelping and writhing and squealing apologies, how long this spanking was going to go on for. This time he really was punishing me.
It hurt. Physically, I mean. I felt so bad for doing something that made me deserve it, too. He stopped at thirty smacks, though I didn't stop wriggling, and hopping from foot to foot for a while afterwards. My poor little ass really hurt. I wanted to rub it better, but I knew that I did that without his permission I'd feel his belt, or worse.
 "Maddie. You will never dress yourself in my presence, without my express permission. Is that clear?" 
I felt so ashamed. I hadn't thought. "Yes, I'm sorry, Sir. It won't happen again." 
"I should think not. In fact, whenever you're here, you undress at the door. You do not have the right to wear clothes in this house, unless I tell you otherwise." 
"Yes, Sir. I understand." I was so sorry.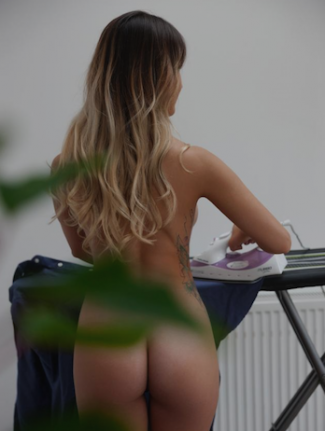 "Now iron your skirt and your shirt. I'll watch." 
He was smiling again. My heart lifted, with that. I remembered the fantasy I'd had in the bath, about being Miss Sexy Girl with an iron. So I stood further from the ironing board than I usually do, so that I had to bend at the waist.
And I began, basking in his eyes. I, uh, was finding that I don't mind the male gaze. If it's the right male. 
While I worked, he told me he'd made a doctor's appointment for tomorrow morning.
He'd take me. We were going to do tests for pregnancy and swabs to test for STDs. And, he said, I might need to take the morning after pill.
That could be easy, but there was also a chance it could make me feel very bad. So he'd bring me here again tomorrow, so he could look after me.
The morning after pill at didn't sound like much fun. But I realised that he wasn't going to fuck me till all this had been dealt with, and I was ok. That made sense. I wasn't getting what I wanted, but he was taking care of me.  
Eventually, I finished, and uniform was all crisp and warm again. He looked at me very seriously. "You may get dressed now, Maddie." 
When I'd finished, he held me in his arms and kissed me. I felt him getting hard again. So did he, because he suddenly stopped. "Come on, girl. I'd better take you home."
The next episode is here.