The previous episode is here.
 stepped forward, avoiding Lucy's gaze, and bent over Sir's desk. Lucy's skirt lay folded on the desk beside me, where she'd taken it off to receive her spanking. I put my hands forward, and lowered the upper half of my body slowly down to the desktop. 
The desk was cold. I could feel my own goosebumps, then the cold, hard surface when my nipples touched the wood and I let myself all the way down.
I knew I was helpless now. I felt absolutely powerless. It was going to happen. 
I felt his hand pressing down on the small of my back. "Bottom up, Maddie. You know what presentation means." So, under the force of his hand I arched my back, so that all of my body pressed tight on the desk, while my bottom jutted up. For him, and Lucy, to watch. 
"Good girl. Keep it up. Even when the cane's hurting. You get one warning on that, Maddie, then I start issuing extra strokes."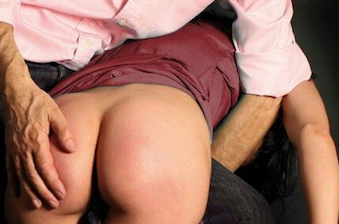 There was a gasp from Lucy, a suppressed protest on my behalf. "Come here, Lucy." I supposed she must have crossed the carpet behind me, because the next thing I heard was the the unmistakeable sound of Sir's hand landing on Lucy's bottom. She got a dozen, and she was wailing quietly for the last four of spanks.
He spoke quietly, so I guessed she was in his arms. "Maddie needs to learn discipline," he said to her. "If she knows she gets extra strokes if she moves out of position, will that help her stay in position?" 
There was a silence. Lucy had to be thinking. To answer "Yes", would be to approve of me getting extra strokes, and she didn't want to say that. Then there was another loud smack. Lucy cried out, "Sir! Sorry, Sir! Yes, Sir, it's kinder to warn her." 
"Good. Now, Lucy, would you like to do Maddie a favour, while I cane her?" 
There was another silence, while Lucy considered what on earth that might mean. But finally she said, "Yes, Sir." As I would have in her position. 
"Good girl. Sometimes when a girl is being caned, she has to count each stroke out loud, and thank me for each one. You know that, don't you?" 
"Yes, Sir." Her voice was breathy. I wondered, over his desk, eyes looking at at the dark teak below me, if he was doing something to her while they spoke. Or if she found the situation exciting. It was at that thought that I realised that I was getting wet. It was a turn-on, to know that watching me aroused her. And if Sir was stroking her while they talked, I wasn't even jealous. 
"Good girl. I want you to count the strokes. In a loud, clear voice after each one. And then you can thank me for showing you what a caning looks like. Can you do that, Lucy?" 
"Yes." She was barely whispering. "Sir." 
"Then we begin." And a few seconds later I felt a thin, hard pressure against the fullest part of my bottom. Then it tapped me once, and then it was gone.
I waited, wondering how much it was going to hurt. Then it landed, a straight line of fire across both cheeks of my bottom, exactly where he'd tapped me. It hurt instantly, and then a second later it hurt more than anything I'd felt before. Oh, it burned. 
I screamed, "Yaaaah!", and my body rocked and writhed on his desk. "Oh! Ah Sir! Sir, that huuuurts!" 
A second later Lucy said, "One, Sir. Thank you for letting me watch, watch what getting caned looks like." 
I struggled with myself. It took all of my will-power not to get up and run Though where I could have run, stark naked with a fresh cane-stripe across my ass, I'm not sure. Eventually I managed to get my bottom up, the way he'd told me, for the next stroke. 
"Good girl, Maddie. A little faster, next time. Can you manage that?" 
I thought about extra strokes. Then I thought about how much I wanted to please him. "Yes sir, I will stay in position. Or get myself back into position quickly. Sir."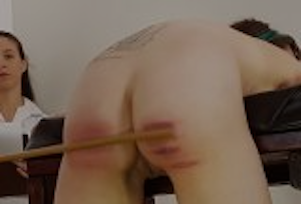 "Good girl. But if I have to warn you again, you will get extra." I nodded into his desk. Of course I was going to earn extra strokes. I was never going to get used to this. 
The cane returned, pressing against my bottom, just a little lower than that first stroke. Then a little tap, then the cane's terrifying absence. I held my breath.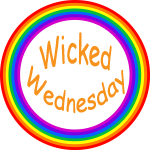 The next episode is here.