The previous episode is here.
So I stayed down, bent over his desk, not even wearing a wristwatch, waiting for the light touch of the cane across my bottom. There had been two taps of the cane against my bottom, to help him to aim, and that told me where Sir was going to put the next stroke. It told me where the next fiery line of pain would land.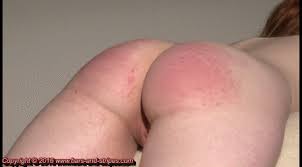 The tap came, twice, against my lower bottom, just above the crease of my thighs. Where the skin was softest and most sensitive, and it would hurt me most when I sat down afterwards. Then the cane swept down, and the loud crack of the bamboo on my flesh, and that line of pure pain reached my brain at the same time.
I yowled, and my hands clenched and unclenched while the pain built up. I forced my body down, the desk so cold and hard under my belly and breasts.
Eventually, I could arch my bottom out and up, the way he'd told me, to present myself for his next stroke.
Lucy said, "Two, sir. And thank you for showing me what getting the cane looks like."
I could hear the choke in her voice. She didn't like herself for it, but watching me get humiliated and hurt was turning her on. I could have hated her for that, but I didn't. She was obeying orders, as I was, and we can't help what makes us aroused.
Eventually Sir said, "Good girls. Both of you. Keep that bottom up, Maddie."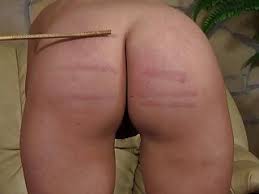 The next three strokes were delivered with the same delicious slowness and deliberation. I knew he was watching each stripe forming, and thinking about where to put the next. He was like an artist, not a disciplinarian. He was decorating me; my pain was real, but my stripes were beautiful, to him.
I felt proud, and incredibly needy. Cunt-greedy. All I wanted was for him to fill my cunt. I needed to be fucked so badly.
I wouldn't even care, I'd decided, if Lucy watched that too. I imagined her saying, in that high, choked voice, "Good stroke, sir! And thank you for showing me what getting fucked looks like."
I chuckled at that thought, and that sealed my fate, I think. Sir said, "Last stroke, Maddie. A nice, traditional six of the best." 
And I spread for him, moving my feet further apart, when he tapped the cane again, still low on my bottom. I wanted him to see how greedy my cunt was. And, I suppose, Lucy. A second passed, while he held the cane above his shoulder. And then he swung it down, across my underbum, at least twice as hard as the other strokes. Then all I knew was fire and pain.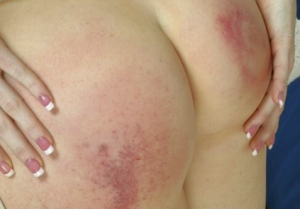 I screamed, and my body rose from the desk. I howled and reached back to clutch my bottom. It hurt so much! I was standing up, hands across my ass for comfort and protection, while I hopped in place and swore and swore and swore. 
Sir said, "Hands away, Maddie! Put them on your head!"
When I'd obeyed – I knew I was in trouble, and I put my hands up as fast as I could – he strode forward and spanked me hard, several times, on my bottom, already sore and striped from the cane. I managed to take those in silence, though the tears of pain and shame streamed down my face. 
He turned my face towards him then, and we were close enough to kiss. I wanted to melt into his arms, but I knew I couldn't. It wasn't that Lucy was watching: she was already part of this strange intimacy between us. It was that I was in disgrace. 
Sir looked at Lucy then. "What do you think happens now, Lucy?"
She was so pale. She started to speak, and cut herself off. Finally she managed to say, "I– I don't know, Sir." 
"If you lie to me again, Lucy, you'll get the same as Maddie. Do you understand?" 
Lucy's little pink tongue passed around her lips. Eventually she said, "She'd get the same again, Sir." 
"That's right. And if she gets up again – you hear me, Maddie! – she'll get another twelve. All right, Lucy. Maddie's got six strokes coming. Do you want to watch her get another twelve on top of that?"
There was another silence. I watched Lucy. She was wearing only her shirt, and perhaps a bra. Her thighs and knees were trembling, and the tears in her eyes had spilled. She said, "No, Sir."
Then another silence. Sir and I both knew Lucy was lying. Or part of her was. But Sir said, "Then you're a kind girl, and I'm sure you'd like to held young Maddie, wouldn't you?" 
Lucy frowned. "Yes, Sir?"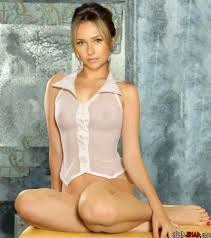 "Good girl. I want you to pull your shirt up to your waist, and sit on the edge of my desk. Maddie's going to put her head in your lap while I cane her. You're going to hold her in place, Lucy, with your thighs and your hands holding her down. And if she takes her nose out of your … lap, just once, then she'll get the extra twelve. And you'll get them along with her. Do you understand?"
Lucy hesitated.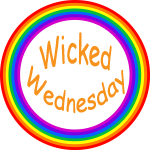 The next episode is here.