The previous episode is here.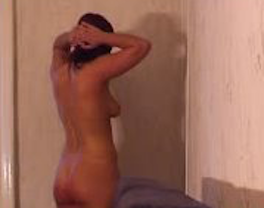 I turned and approached Sir. I wanted to explain, but also to show him I was good, by saying nothing without his permission. 
Sir said, "So, Maddie. Who gave you permission to spank little Lucy here?" 
I didn't want to get Lucy into more trouble with Sr, so I said, "No one, Sir."
But Sir smacked Lucy's bottom again, still holding her across his knee. She really was quite red with his slaps, even though her formal spanking hadn't begun yet. "No one, hmm? I'm thinking it might have been Lucy here."
I said, "No Sir, she didn't– It was my doing, Sir." 
Lucy interrupted. "I gave her permission! I want to be under her control, the same way she is with you. Sir." 
Sir spanked her again, but it was almost gentle. And his, "Speak when you're spoken to, Lucy," had no anger in it. Lucy looked at me, helplessly. She had some message for me, but I couldn't read it.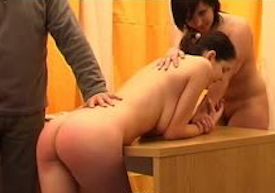 I said, "Sir? Please Sir. I meant to tell you what we'd done, but I didn't get time before Lucy arrived. I don't think it's bad, but… Well, you're the judge of that, of course, Sir. But may I explain, Sir?"
Sir looked at me. I could see that he was trying not to smile, and I felt a wave of feeling: it wasn't relief but lust.
I wanted to be fucked, as soon as possible. Not even the thought of being caned first worried me. I was still in his good books, whatever he pretended. That meant so much.
"All right, Maddie. I think you'd better explain, too. Begin."
"Sir, it was at lunchtime. We were talking about coming here after school. And then to your place. And when Lucy wanted to watch me getting fucked, that turned me on so much. And, well, you know what Lucy's like." Sir put his hand on Lucy's bottom and stroked her, dipping his finger between her buttocks. Lucy sighed and wriggled. Sir knew what she was like, all right. 
"And I couldn't help myself. I told her she belonged to me. As my property, to command and reward and punish as I like. And to pleasure me whenever I tell her. But I also said that I belong to you, and that means that she belongs to you, too. In the same way."
"So. So you bought me a gift? Are you happy with being a gift, little Lucy?" His finger delved deeper, and Lucy's face suddenly burned red. I knew where he had her.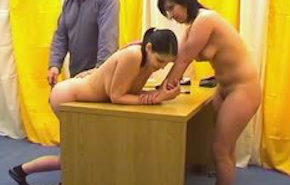 Lucy writhed a little. She was showing off, but she was also enjoying his attentions. "Yes, Sir. With your permission, Sir. If you want me, then I belong to you too. I'd love to be your gift. From my Mistress." 
Sir laughed. "Open your thighs, Lucy."
When Lucy obeyed, he put three fingers into her little pussy, and pressed his thumb against that tighter hole, her little bud. She sighed while he stroked her. "All right, Lucy, You belong to me."
"Th-thank you, Sir1" Lucy's voice quavered on "Sir". She was finding it hard to talk. 
Sir said, "Just one thing. You have a Master and a Mistress. So you're a lucky girl. We're all lucky, I think. Including you, Maddie."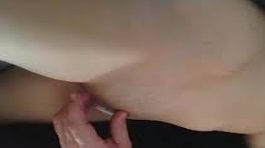 I swallowed. I was being allowed to keep my girl. I said, "Yes, Sir. I know I am." I watched Lucy's wriggles and little struggles. She was going to come soon. 
"But, Lucy, if your Mistress tells you to stand, and your Master tells you to sit, what do you do?" 
"Uh! I– I sit, Sir! Uh! You're in charge, I know that!" Then her head dropped and her bottom rose. Rose-coloured it was, too. She closed her eyes and writhed against Sir's hand, hands on the carpet and feet in the air, groaning and wailing.
At last she said, "Oh, oh god. Thank you, Sir. Thank you!"
Sir smacked her bottom, hard. "Good girl. Now we begin. Maddie?" 
"Yes, Sir?" 
"You know where I keep the canes." 
"Yes, Sir." 
"Fetch the senior cane. Now."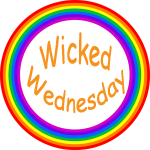 The next episode is here.